The Bull is now a proper brew pub.
It's owned and managed by Dan Fox, a London pub veteran who ran the popular White Horse in Parsons Green for four years. And Steve Grey has stepped up from cellarman (at the White Horse) to head brewer, after picking up experience at Redemption and Ascot breweries.
Pete has been following their twitter account, reading about their fledgling London Brewing Company and decided it was time to pay a visit.
The first time we popped in at the end of August, their first batch of beer wasn't ready. The next time we went in, there it was, on tap fine and dandy.
On our first visit, we ordered lunch from the full menu.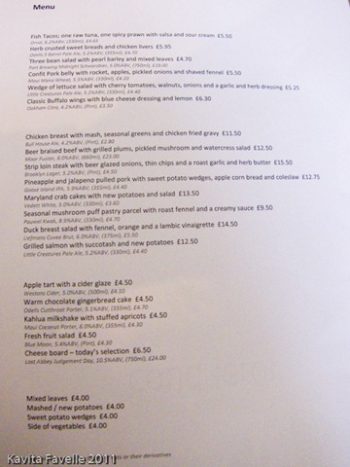 Head chef Raoul Whitaker, an American now based in the UK, cooks well. But some of his flavour and texture combinations don't quite work, in my opinion.
Wedge of lettuce salad with cherry tomatoes, walnuts, onions and a garlic and herb dressing (£5.25) was just what it sounded like, simple and very generously dressed in the American fashion.
My herb crusted sweet breads and chicken livers (£5.95) were deftly cooked so they were nice and soft inside, but the herb crust overpowered their flavours, they were served with an even more overpowering sweet sauce and some pickled vegetables, which should have restored the balance but just washed away the sweetbread and chicken liver even more.
The pineapple and jalapeno pulled pork with sweet potato wedges, apple corn bread and coleslaw (£12.75) went down well with my friend, another American living in London. I forgot to taste it, so can't comment further!
I had mixed feelings about my strip loin steak with beer glazed onions, thin chips and a roast garlic and herb butter (£15.50). The steak was cooked medium-well rather than the requested medium-rare and was a bland piece of meat too. The beer glazed onions were delicious, which at least added flavour back. The thin straw chips were excellent. But the garlic butter was stingy – virtually undetectable.
Grilled salmon with succotash and new potatoes (£12.50) was well cooked and simply presented. Succotash, so we discovered, is a traditional American side of cooked corn kernels and beans. Decent.
At first, I was glad I didn't order the warm chocolate gingerbread cake (£4.50) which came out some time before the other two desserts. The cake was rather dry. But the cream and chocolate sauce helped and both portions seemed to be enjoyed by those who ordered them.
Both elements of my dessert of Kahlua milkshake with stuffed apricots (£4.50) were tasty individually (though I don't think the apricots benefited from their crunchy crust) but I found the flavours a dreadful clash and didn't feel they belonged on the same dish. This was not a well conceived pairing.
You might be surprised that we returned again a few weeks later, given the mixed review above, but I'm glad we did, as our second lunch was far more successful, not to mention more reasonably priced.
This time, we ordered from the sandwiches and bar snacks menu, choosing three items between the two of us. Of course, two would have been plenty, but an inability to choose resulted in greediness.
Beef sliders with tomatoes and cornichons (£5.50) were rather nice but I'd much rather have had one proper burger than two teeny tiny ones. The patties were moist and tasty, but not even big enough to fill the (small) buns. Oh, for the sliders trend to fade away as quickly as it came…
These cylinders are described on the menu as potato tart with a Gruyere cheese sauce (£5.50) but what came out were five soft, mushy potato croquettes with a cheese dipping sauce. Tasty, but not at all what the description suggests.
Pulled pork sandwich with jalapeños in a brioche bun (£4.95) was large and generously filled, for the price. I am not any kind of expert on American pulled pork, but I really enjoyed the soft, sticky, shredded meat in its slightly sweet sauce. I couldn't spot any jalapeños but did detect a very gentle heat and flavour.
Personally, I recommend you stick to the bar snacks menu, which is definitely the best value.
One more thing to mention is the service, which was very helpful and friendly on both visits and is probably what will see us visiting again.