The only Thai restaurant in Abergavenny, Boonta Too Thai has a loyal customer base, many of whom recommend it for its solid Thai cooking and friendly service.
Located above a flower shop, the first floor restaurant has a homely and slightly dated feel about it, and no alcohol license means a (no-charge) BYOB policy.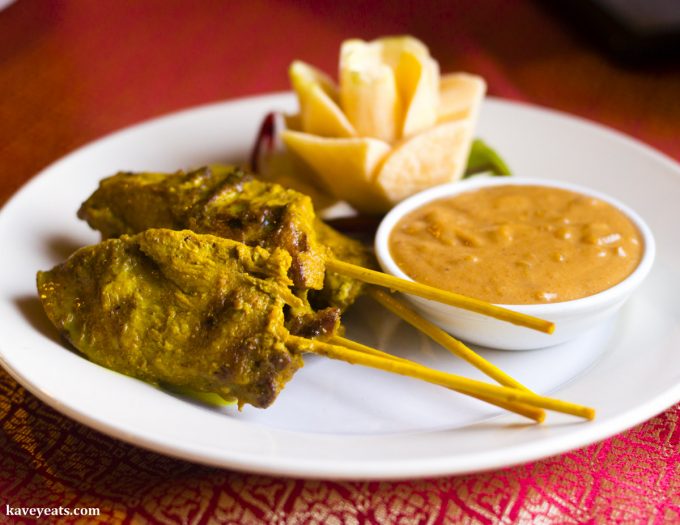 Chicken satay with peanut sauce (£4.95) retains juiciness in the chicken, and the marinade gives an additional flavour note, but the peanut sauce is disappointingly one-dimensional, more akin to thinned peanut butter than a true satay.
Sesame Prawn Toast (£4.95) with sweet chilli dipping sauce is hot, fresh and crispy, but fairly plain, without the spicing I've come to expect from Thai versions. It's tasty though, and quickly eaten.
The Beef salad (£4.95) with chilli, lime juice and onion is definitely the winner of our three starters. Ragingly hot and fiery chilli mixed in with superbly tender beef and crunchy salad vegetables, results in much huffing and puffing on my part at the intensity of the chilli heat. But I stubbornly continue to eat, regardless of the burning pain, for the wonderful flavours!
Beef Pad Kar Pow (£13.50) is described as a 'chilli and basil stir fry', a dish I'm more familiar with in its minced pork version. The rich and savoury flavours are good and the meat portion generous. A portion of steamed rice, egg fried rice, coconut rice or egg fried noodles is included in the price.
Roasted Duck Red Curry (£13.50) is punchy and delicious, the duck soft and tender and with plenty of chunky bamboo shoot, which I love. Again, the price includes a portion of rice or noodles.
I'm not at all a fan of the Chicken Pad Thai Noodle (£8.50) which is wet and sloppy and tastes overwhelmingly of tamarind. It has none of the subtlety of flavour I usually enjoy in pad thai, and much of it is left uneaten.
Overall, we enjoy the meal – most of the dishes are decent, and a few are really good. Even with the portion of rice or noodles included with each one, the prices for main dishes seem on the high side to me, but as the only Thai restaurant in the vicinity, it's no doubt able to charge a premium without being undercut by competition.
Certainly, we'll go back, especially now we're aware of the BYOB policy, which is a welcome way to reduce the bill a little.