I was saddened by the news that BookPeople closed down, having bought books from their shops and office-visits for many years. Here are a selection they invited me to choose from their food and drink titles back in early 2019.
Higgidy: The Cookbook by Camilla Stephens
I have the original edition of this wonderful cookbook, published in 2013. Written by Camilla Stephens, the founder of Higgidy Pies, the book shares over 100 recipes for 'pies and more', the 'more' being frittatas, tarts, hotpots, pizza, and sauces. The title has now been updated and re-released, with new recipes added (and some from the original book removed).
Chapters cover simple suppers, partie pies, crafty quiches and trusty tarts, sweet treats, and easy extras and proper pastry. Most recipes are illustrated with bright, colourful photography, home cook style.
The Pork and Apple Stroganoff Pie with Cheddar Crust that we loved from the first edition is no longer included (recipe at link) but I'm keen to try sausage and bean pie with ciabatta crumbs, mince and tattie pies, Chinese spiced beef pies, giant gruyere and ham sandwich, lemony chicken pie with quick soured cream pastry, giant garlicky mushroom galette, melt-in-the-middle pesto chicken, hot-smoked salmon gougere, wintry quiche with walnutty pastry, lemony asparagus and ricotta tart, cherry tomato tarte tatin, smoked chicken and parsley pesto quiche, and salted pecan fudge pie.
Higgidy: The Cookbook by Camilla Stephens (RRP £20)
It's not a secret that Jamie Oliver has a particular love and affinity for Italian cuisine, dating from his earliest jobs with Antonio Carluccio, Gennaro Contaldo and Ruth Rogers and Rose Gray at The River Cafe. Italian food has always taken a prominent place in his programmes, books and restaurants, from the Naked Chef and Jamie's Kitchen, to Jamie's Great Italian Escape and, more recently, Jamie Cooks Italy.
This book shares recipes from that latest series, plus many more, taking domestic cooks to the heart of the Italan kitchen. Recipes are simple, modern and achievable and include trusty favourites like carbonara and ragu, alongside a range of less familiar dishes. Chapters cover antipasti, salads, soups, pasta, rice & dumplings, meat, fish, sides, bread & pastry, and dessert, plus a chapter on basics at the end. Every recipe is illustrated with rustic, mouth-wateringly tempting photographs and written in Jamie's trademark straightforward, no-nonsense way.
Strewn throughout the book are the Italian nonnas from whom Jamie has learned many of the recipes in the book, each one beautifully photographed and introduced ahead of some of their dishes.
I can't wait to get cooking and try dishes like spring souffle with creamy mixed cheese sauce; mozzarella fried eggs with sweet tomatoes, fresh basil and toast; baby courgette salad with whipped pecorino ricotta and black olive tapenade; sausage stracci with squash, bay, black pepper and parmesan; corteccia with hot smashed broccoli, pecorino, garlic and anchovy pesto; roasted meat agnolotti in a silky porcini broth and butter sauce; oozy black rice with sweet roasted pears, thyme and creamy gorgonzola; baked risotto pie with sweet spicy squash and oozy cheeses; gnudi with ricotta, hero tomato sauce and sprouting broccoli; chicken under a brick pan-roasted and drowned in salsa piccante salubre; beef cheek ragu with barolo, tomatoes, cinnamon and cloves; Jamie's Neapolitan pizza base; pizza fritti stuffed with ricotta, parmesan, mozzarella and basil; mozzarella bread with smoky scamorza, smashed green olives, capers and oregano; cocoa rum dessert with amaretti, caramel and creme fraiche; and rice pudding semifreddo with marsala figs spiked with orange, bay and vanilla. And that's the short list!
Jamie Cooks Italy by Jamie Oliver (RRP £26)
Jamie's Friday Night Feast is based on the TV series of the same name, in which Jamie Oliver and Jimmy Doherty invited celebrity guests and members of the public to join them at their cafe by Southend pier. Celebrities joined to two presenters in cooking delicious and indulgent feasts perfect for the weekend, and the food was served up to an appreciative cafe audience.
The cookery book includes all the best recipes featured in the show, beautifully illustrated by the usual bright, colourful and attractive photography common to all Jamie's books.
Instead of the usual chapters covering different types of dishes, the Contents page provides a full list of every recipe in the book, over 70 of them including Mark Hamill's roast sirloin and Yorkshire puddings, Greg Davies' Thai green chicken curry, Simon Pegg's lamb tagine, mega meatball sub, carbonara cake, Goldie Hawn's fettucine Alfredo, salt-crust salmon, and David Tennant's Croatian-style cuttlefish risotto.
All the dishes are great for sharing with family and friends.
Saliha Mahmood Ahmed comes from a large Pakistani family that loves to come together around food, and has loved cooking since she was twelve years old. In 2017, she won MasterChef, bringing her food and talents to a wider audience, and which was followed by her taking part in food shows across the country, hosting cookery classes, and collaborating with well-known chefs like Atul Kochar, all whilst continuing her day job as a Gastroenterology specialist doctor.
In Khazana, Ahmed explores the rich culinary heritage of Indo-Persia and the Mughal Empire, supported by her own travels across India and Pakistan. Khazana translates to 'treasure trove' in Urdu, and that's exactly what readers will discover in this book's colourful pages, starting with a short Introduction to Saliha's background followed by a helpful precis on Mughal cuisine.
Recipes are divided into chapters for salads, soups and starters; meat; poultry & game; fish & seafood; lentils & vegetables; rice and bread; pickles, relishes & raitas; sweets; and drinks, and there is also a very handy Recipe Suggestions section which identifies recipes that are well suited to breakfast & brunch, light lunches and quick weekday dinners as well as those that will suit picnics, barbeque or tandoor cooking, vegetarian meals, easy entertaniing and more.
The book is illustrated not only with photographs of the food, but beautiful images of Mughal architecture, with its intricate decorative tiling and inlay work.
My recipe shortlist from this book includes guava, peach, black salt & mint; Mughal spiced nut mix; goshtaba beef meatballs in yohurt sauce with buttery basmati rice; lamb shanks in pomegranate & date syrup with aubergine & chickpea couscous; smoked chicken & basil kebabs with beetroot basil salad and beetroot buttermilk raita; sticky tamarind & orange salmon; roasted grapes & homemade paneer cheese; cheese, cumin, mint & walnut breads with saffron butter; rose, sultana & ginger relish; and creme fraiche & rose ice cream with honey-glazed figs.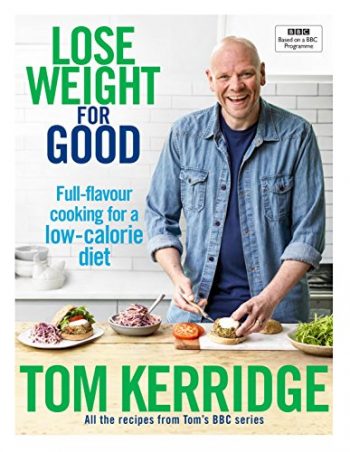 The older I get, the more I'm determined to lose weight to improve my health, and it's something I am prioritising for 2019. Chef Tom Kerridge lost an incredible 12 stone (168 pounds) in weight over four years, by following a low-calorie diet.
He learned that;  'It's impossible to stick to a diet if the food you're expected to eat is boring and doesn't fill you up. So I've developed lots of tasty and satisfying recipes that people will love to cook and eat, but that will also help them lose weight. I truly believe that this attitude works. I've been there myself and now I want to help others get there too.'
This book shares plenty of tasty recipes that are perfect for people like me, who love food and find it hard to stick to bland and boring diets. Tom shares ideas for hunger-satisfying portions of food with lots of flavour so that food-lovers don't feel they are missing out.
A big part of success when dieting is to understand what you can eat lots of, and what you should avoid (or at least limit), and in changing your attitude to food. To this end, the introductory chapter is particularly helpful in arming you with the knowledge you need, as well as the right frame of mind. There's also a helpful guide to weighing fresh produce at the end of the book.
Recipes are divided into chapters for breakfast; soup; fish & seafood; chicken & turkey; meat; veggie; and sweet things. Flicking through the book, what springs immediately to mind is how appealing the recipes are, in that I wouldn't even think of them as 'diet food', but simply as tasty food. I'm eyeing up blueberry, lemon and thyme pancakes; puffed rice cereal with banana and date yoghurt; smoked ham and courgette tortilla; Thai-style butternut squash soup; South Indian fish curry; fish-in-a-bag Chinese style; Soy-glazed salmon salad; Chicken saltimbocca; turkey and courgette burgers with mozzarella; southern-style chicken with potato salad; roast beef salad with chimichurri sauce; chilli con carne; beef stew with dumplings; pork samosa pie; creamy wild mushroom courgetti; toasted cabbage tart with ricotta and lemon; and rice pudding with rosewater and raspberries.

This book is aimed at cooks who are looking for achievable, foolproof and delicious recipes that have get-ahead elements that allow some of the work to be done in advance – perfect for weekday cooking when short of time, and for entertaining.
Written by experienced cook and author Jane Lovett, the book is full of handy tips and clear guidance to support cooks of all abilities. The introduction includes advice on the planning and preparation needed to cook in this way, advice on how to read the recipes, how to choose to plan menus and choose what to cook, and some notes on seasonality.
Recipes are split into chapters for Starters & Small Plates; Brunching & Lunching; Easy Suppers & Comforting Food; Feasts for Friends; Salads & Sides; and Sweet Things. Dishes are styled in a very achievable way, easy to replicate at home, as shown in bright, colourful photographs. Every recipe includes notes on how to get ahead (which steps can be done ahead of time) as well as some extra hints and tips from Jane.
I'm currently keen to cook baba ghanoush with tortilla crisps; potted prawns; Parmesan & black olive soda bread; courgette, Parmesan and mint fritters; crispy lamb filo rolls with harissa yoghurt; spinach, mushroom and Taleggio galette; Turkish lamb meatballs with bulgur pilaf; one-pan cod, chorizo & chickpeas; slow-braised beef short ribs with horseradish cream; aubergine parmigiana; turkey, mushroom & tarragon pithiviers; bang bang chicken; Swiss chard & Gruyere gratin; easy hot chocolate soufflés with chocolate & cardamom sauce; and hazelnut meringue & praline torte.
Kavey Eats was sent review copies by Bookpeople of the ten books featured in this post.