The latest in our series of guides to the best souvenirs to buy around the world, here we are sharing some of the best ideas for souvenirs to buy in Portugal. From traditional tiles and jewellery to classic food and drink items like tinned sardines and egg custard tarts, there are plenty of ideas to suit your tastes and budget.
The Best Souvenirs to Buy in Portugal
Azulejo | Cork Products | Embroidery & Textiles | Filigree Jewellery | Food and Drink | Piri Piri Sauce | Pastel de Nata | Port Wine | Pottery | Rooster of Barcelos | Sardine-Shaped Recipe Book | Tinned Sardines | Vinho de Talha
Azulejo
Ceramic tiles were introduced to the Iberian Peninsula by the Moors; the name azulejo comes from the Arabic word for tiles, itself a reference to the polished stone mosaics of the Roman Era. In the thirteenth century, the Iberian tile industry was centred in Seville but King Manuel I introduced the techniques to Portugal after a visit to Seville in 1503. The Portuguese enthusiastically adopted the Moorish tradition of covering walls completely with azulejos, a visual aesthetic that I love seeing when visiting Portugal.
Today, souvenir shops sell beautiful painted and glazed tiles in both traditional and modern designs, most commonly in square and hexagonal forms. But you don't need to have a wall to tile in order to enjoy these. The tiles make great table mats and artful hangings to decorate your home.
By Kavey Eats.
Cork Products
Portugal is the world's largest producer of cork, and as such, this fascinating natural material is used not only for wine corks and natural insulation, but in a range of products from shoes and handbags to table mats and serving dishes, and even jewellery, pens and artwork.
These are a great souvenir, and have the added benefit of being fairly light to carry home. Prices range quite widely, and can be quite high for larger items, so check the quality carefully before buying.
By Kavey Eats.
Embroidery & Printed Textiles
Embroidered and printed textiles are a great souvenir that you can use in a practical way at home. Bed linen, dining tablecloths and napkins, and kitchen towels can be used in your home, and there are many items of clothing from handkerchiefs to shirts, skirts and scarves. Fabric products are available at a very wide range of price points, depending on whether they are mass manufactured or made by hand by traditional crafters.
Many feature traditional designs such as the Rooster of Barcelo (see below), or patterns from azujelos, traditional artwork or folk costumes, and a wide range of other decorative motifs such as sardines.
By Kavey Eats.
Filigree Jewellery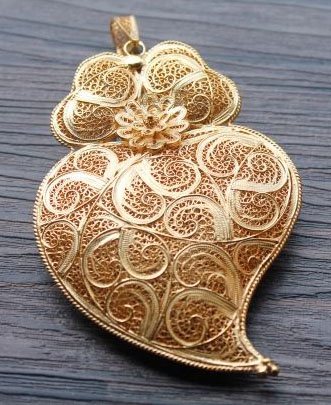 First image courtesy of Wikimedia Commons (ss.analuisa)
Ornamental filigree is an intricate style of metalwork made by welding together fine threads of metals such as gold, silver, and bronze. It has been used in jewellery since Greco-Roman times, and is particularly associated with the traditional wedding dress and folk dancing costumes of Northern Portugal.
This region is known for its abundance of precious metals, especially gold. As such, it became the centre of the artisan filigree industry, which is located in Póvoa de Lanhoso, a district of Braga. Portuguese gold is 19.2 carats, and there are several shops selling finely crafted items of filigree jewellery in and around Braga. Prices are based on weight of metal and intricacy of craftsmanship. Silver filigree is, of course, more affordable than gold.
That sign my friend José is posing with translates as "Hey, I did not ask to be Portuguese, I was just lucky!"
By Kavey Eats.
Food and Drink
I rarely travel anywhere without bringing home something delicious to eat or drink. Portugal offers some great treats from specialist delicatessens and wine merchants, as well as grocery shops and supermarkets.
If you love cheese and cured meats, these are always great items to buy, as long as they are not restricted to import where you live. As well as Portuguese custard tarts and tinned sardines (see below), I love to find items I've not tried before such as beijocas – sweet, crisp biscuit balls that melt away like meringue on the tongue, which I found in A Pérola do Bolhão, a beautiful art nouveau-fronted grocery shop on Rua Formosa in Porto.
Ginjanha, a sour cherry liqueur, is a popular tipple made by infusing sour morello cherries, sugar and additional flavouring ingredients in an alcohol such as brandy or a clear spirit. At the turn of the 20th century, a shot was given to children as a cure for many illnesses, but today it's an adult-only treat.
Wine is also a great choice, even more so when you are able to visit the winery, see it being made, and taste before you buy. There are fantastic wines across Portugal, especially in the Alentejo region, considered to be the gastronomic heartland of the country. And of course, you can visit Porto and the Douro Valley for famous port wines (see below).
If you're looking for something unusual from Alentejo, I recommend Ervideira's Invisível, a wine that's almost as clear as water, or their Vinho da Agua, a wine which is bottle-aged 100 feet under the waters of Lake Alqueva for 8 months.
By Kavey Eats.
Piri Piri Sauce
Piri Piri is a typical Portuguese sauce, made from piri piri chillies, that is spicy and tangy. This hot sauce is unique in flavor and excellent with many different foods. My first experience with this magical sauce was at a churrascaria restaurant in Sintra, serving piri piri chicken. My family and I proceeded to devour our chicken and fries, applying liberal amounts of piri piri. One of the best meals we have ever eaten, we returned the following night to enjoy more piri piri chicken with the locals. The owners of the restaurant treated us like old friends.
The next morning, we went straight to a supermarket to purchase a bottle of piri piri sauce, which my family started adding to everything I cooked, including breakfast! All of the piri piri sauce we had tasted very similar in Portugal, so the quality seems consistent amongst the different brands as well as restaurants that make it in-house. We returned home to the U.S. and were distraught that we couldn't find this fantastic sauce at any of our local stores. I ended up ordering some on Amazon, and paid $14 (7 times the price in Portugal) so next time I go to Portugal, I will be bringing home several bottles with me!
Whitney blogs at GoFam Travel. Find her on Instagram.
Pastel de Nata (Custard Tarts)
Pastel de Nata is the absolute best souvenir from Portugal. It is an egg custard filled tart pastry, a little bit crispy from the outside, creamy inside. It's quite small, with a size of a cupcake. The price per one piece is ranging between 1€ to 3€, so it is really cheap. Pastel de Natas are available to buy everywhere in Portugal but the best place to get them is the famous Pasteis de Belém bakery in Lisbon. If you don't want to wait in a long queue, just visit any other bakery in the country. I have been eating Pastel de Nata in random places all over Portugal and was never disappointed. This pastry tastes best when it is fresh, so be sure to give this souvenir as soon as you get home!
Karolina blogs at Karolina Patryk.
Port Wine
Port is a sweet wine that's enjoyed all over the world, but it originates from Porto in the north is Portugal, so what better souvenir to take away with you than a bottle or two? To be classified as Port, the grapes need to be grown in the Douro Valley, 100 kilometres away from Porto along the Douro River, before being transported to Porto and made into a red, white, or rosé wine, then fermented for a very short time in steel vats or wooden barrels, which add flavour, before moonshine or brandy is added which stops the ageing process.
You can visit the Port Wine Cellars in Porto to learn more about the process and taste the different types of Port they make. It's one of the best things to do in Porto. Then of course, you can buy a bottle to take away with you! Buying Port in Porto is much cheaper than you'll find it elsewhere, you can taste it before you buy too, and you can pick up some more unique port wine like white or rosé port. We paid as low as €7 for a high quality bottle!
Sonja blogs at Migrating Miss.
Pottery
There are pottery factories throughout Portugal, but the Algarve is the region that has become most famous for them. Between Porches and the NOBEL International School on the N125, you'll find several roadside factories with shops where you can stop in and browse the different products that they make there. The most famous of these is Porches Pottery, but all are worth a visit.
If you've eaten out in Portugal, you'll probably recognise some of the different bowls and jugs. These bowls and jugs, particularly the terracotta ones, are commonly used in Portuguese homes and restaurants for serving olives and wine for cooking with, and for presenting food – just about everything really.
One great souvenir to pick up is an Assador de Barro, which is a terracotta dish that looks a little like a toast rack. Used for grilling chorizo, the sausage is placed on top of the terracotta grill and aguardente is poured into the catchment area below. The alcohol is then set alight and the chorizo is cooked on the table in front of everybody. It's a fun dish to do at dinner parties but, to be on the safe side, make sure you know where the fire blanket or extinguisher is beforehand. As a guideline, you can expect to pay around €10 for one of these at one of the pottery specialists on the N125. They're also sold in supermarkets like Contintente (and are just as good) for around €4.50.
James blogs at Portugalist. Find him on Instagram.
Rooster

of Barcelos, Porto
It took a grand total of about ten minutes of wandering around the streets of Porto during our week in Portugal before we started to notice a recurring theme… A brightly coloured rooster, resplendent with patterns and vibrancy seemed to pop up around each corner. A quick search revealed the
Legend has it that the rooster saved a man who had been falsely accused of a crime from being put to death. So naturally, over the years he's been adopted as one of the unofficial emblems of Portugal.
The roosters come in all different sizes, colours and patterns – I picked one up to bring home in a small shop down one of Porto's back streets. It only cost about €10, but you could buy much larger ones that were more expensive too. Not only does it brighten up our home, but it reminds me of that wonderful trip.
Julianna blogs at The Discoveries Of. Find her on Instagram.
Sardine-Shaped Recipe Book
These cute sardine-shaped and sardine tin-shaped cookery books caught my eye during a visit to the famous and beautiful Livraria Lello bookshop in Porto. Each one contains ten recipes for sardines, and they are available in several languages including Portuguese, English, Spanish, and French. At just 6 Euros each, these make a quirky, small and light-weight gift or memento to bring home.
By Kavey Eats.
Tinned Sardines in Olive Oil
Packed since 1942 by 'Comur – Conservas de pescado' in Aveiro, Portugal, in beautifully semi-customized cans (you can pick your birthday year or surprise someone else with theirs), Portuguese sardines along with a handful other dishes – such as cod – are a must.
What makes them perfect as a souvenir is their budget-friendly price (around 5€), the quirky year data on the package (which made me realize the Internet was invented the year I was born!), how touristy friendly their main Lisbon store is, the fact that they last around 4 or 5 years, and how tiny and convenient is the package, something to really consider when buying souvenirs that you need to carry home in your luggage.
All in all, I found this product not only genius, really tasty and a great representative of the fishing Portugal scene; but also a great buy that I will look for again next time I visit my neighboring country.
Inma blogs at A World To Travel. Find her on Instagram. 
Vinho de Talha (Clay Pot Wine)
Vinho de talha (clay pot wines) are made using the ancient technique developed and spread by the Romans over 2000 years ago. Although these techniques died out in favour of modern wine-making methods, today, a number of wineries in the Alentejo region of Portugal are once again making natural wines using vintage clay pots.
Crushed grapes are placed into the clay pots to ferment using natural yeasts – those found on the grapes and in the atmosphere – rather than commercial ones.  As the skins and stems are included, the nature and flavour of the wine is quite different from the usual. The process is quite labour-intensive, so the wines are a little more expensive than those made the usual way, but there are also some very interesting flavours to explore.
Find out more and try and buy clay pot wines from Herdade de São Miguel, and other wineries in the Alentejo region.
By Kavey Eats.
Save for later
Find more of my posts on the best souvenirs to buy around the world.
With many thanks to my contributors for helping me to compile this guide to the best souvenirs to buy in Portugal. All images are by the authors of the relevant entry, unless credited otherwise. 
Please check the customs restrictions of your home country before your trip, so that you know which food and drink souvenirs you are permitted to import.