You will find floating markets across Thailand, a country that's embraced transport via rivers and canals for many centuries. The floating markets in Bangkok are the most iconic and very popular with tourists. Most of them are actually an hour's drive or so West of Bangkok city in the province of Samut Songkhram – sometimes also known as Maeklong for the river that runs through it.
I've always wanted to visit one of these floating markets to experience this bustling water-born trade, and to capture my own images of the photogenic boats, vendors and food.
As soon as our flights to Thailand were confirmed we booked a Bangkok floating markets tour which included visits to three floating markets plus a famous railway market in the same area, taking the hassle out of researching and booking transportation. We also appreciated having a Thai-speaker to help us identify and order delicious treats to taste throughout the day.
Although we enjoyed visiting each of the markets in the tour, we found Amphawa Floating Market so densely crowded that it was hard to appreciate the unique sights it had to offer, shuffling slowly along the narrow walkways in a sweaty crush of visitors, unable to stop readily without disrupting the flow. We were also surprised by how few boat traders were on the water during our visit, with most of the activity and sales occurring in the waterfront stalls; we only later learned that this market is at its best during the afternoon and evening rather than earlier in the day.
Described in tourist guides as more authentic than the larger Damnoen Saduak Floating Market a few miles further north (which we didn't visit), we felt that Amphawa was more overwhelmed by the volume of tourists than we'd expected. Hopefully we will return to Amphawa in the future for an early evening visit and better appreciate (and be able to photograph) the charms of this popular floating market, even with the crowds.
Tha Kha Floating Market
In the meantime, it was Tha Kha Floating Market that captured our hearts and fulfilled our expectations of a traditional floating market..
This small floating market has traditionally operated according to the lunar calendar, scheduled for the waxing and waning moon phases. These days, it also opens on Saturdays and Sundays, making it easier to schedule a visit, though our guide said the lunar calendar days are busier. Note that this is very much a morning market, so time your visit accordingly.
Tha Kha Floating Market is situated in a green and rural area mainly given over to coconut palm plantations and pomelo fruit farms, these being two of the key crops of the area.
Much, much smaller than the sprawling Amphawa and Damnoen Saduak Floating Markets, Tha Kha is still very much a local community market, and you'll spot many regular visitors warmly greeting the boat vendors as they buy produce for their home kitchens as well as fresh hot food to eat straight away.
A highlight is watching the mainly elderly women vendors deftly cook hot food right there in their small rowboats, passing dishes across to eagerly waiting customers on the banks of the canal as soon as they are ready. Often the women are chatting boisterously to each other as they work, nodding and laughing, no doubt catching up on the latest news.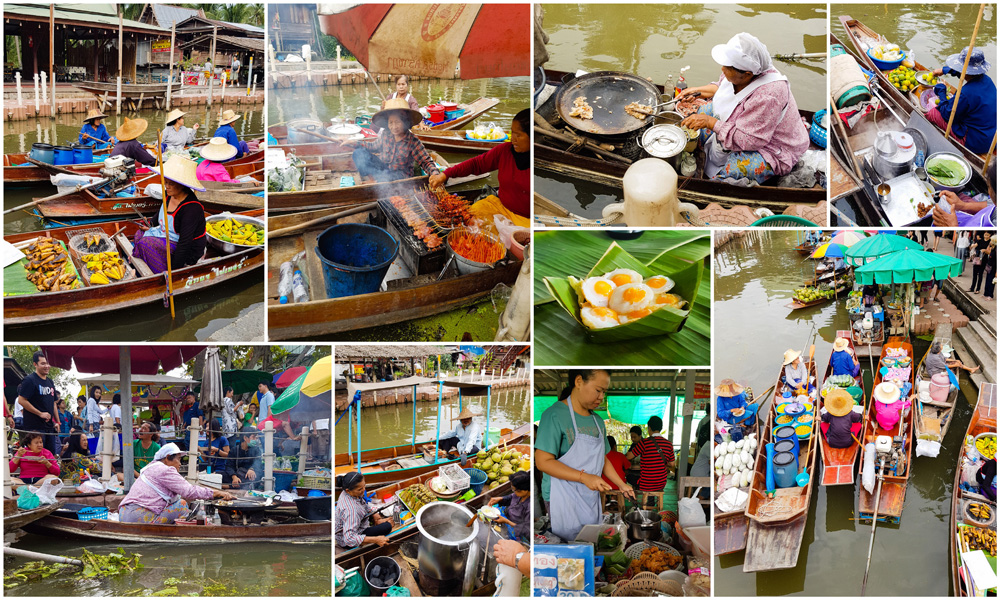 Although Tha Kha market is small in size, there are certainly enough vendors to try a wide range of delicious dishes. The boat sellers are supplemented by stalls on the shore, and there are covered seating areas too if you want to sit at a table to eat.
Of course, tourism is a factor here, and there are a few operators offering boat trips to tourists to explore the canals. Instead of a motorised boat, we took a more relaxing rowboat tour through quiet and green canals, with views of local farmland and houses.
Our boat ride included a stop at a small coconut palm sugar farm, before taking us in a loop back to Tha Kha Floating Market.
Visiting a Coconut Palm Sugar Farm
Many of the coconut palm plantations here are smallholdings, running a cottage industry process whereby each household makes their own coconut palm sugar from their small plots of coconut palm trees.
At the farm we visited by boat, we were shown how the sap from the coconut palms is collected daily, and how it's then boiled over wood-fired basins in an open-sided shed. It's hot work! The sap is transferred from basin to basin as it reduces, until it finally turns into a thick sticky boiling mass. As it cools, it solidifies into crumbly, golden-hued coconut sugar, usually sold in solid blocks to be grated on use.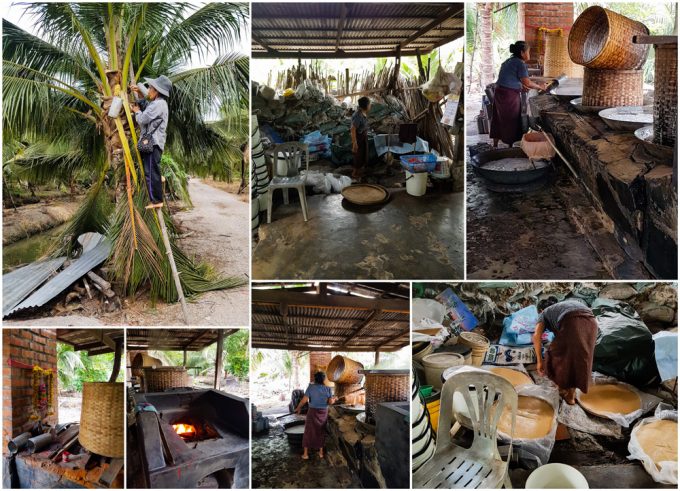 To cater to the influx of tourists now visiting the small factory throughout the weekend, this farm recently started using small flower-shaped moulds for a little of their production, allowing them to make sales of small bags of flower-shaped blocks as an edible souvenir. Most of the farm's production is sold on to larger businesses who repackage and sell the coconut sugar onwards, often cutting it with less expensive refined sugars to make the end product cheaper. Being able to taste and buy 100% pure coconut palm sugar directly from the source is a big treat and of course, you can buy it from stalls at the floating market too.
The farm we visited was owned by a tiny elderly lady who ran it with the help of her brother and sister-in-law. They have no kids to take over the farm, so the future is uncertain, though the owner has no intention of slowing down anytime soon. Neighbouring farmers face similar uncertainty as most of the younger generation have chosen to move into the towns and cities for office-based work.
How to Get to Tha Kha Floating Market
We took a tour that included visits to three floating markets and the Maeklong Railway Market, travelling in a minibus with our driver, guide and two fellow tour attendees.
Provided you leave early enough to avoid the Bangkok morning rush hour, the drive from Bangkok city centre to Tha Kha takes around an hour. Parking seems straightforward, as Tha Kha Floating Market is not in a built up area.
Since we found Google satellite navigation to be accurate and easy to use when self-driving in other areas of Thailand, next time we go to Tha Kha we will visit independently with a rental car, rather than as part of a tour, allowing us to spend longer than the tour allocated.
You can also travel to Tha Kha by train, bus or minivan from Bangkok (plus a taxi or tuk tuk between the local station and the market) if you don't want to drive and don't want an organised tour.
A Three Week Itinerary For Touring Thailand
We visited Bangkok as part of an independent holiday, which we organised and booked ourselves. Check out our comprehensive three week Thailand itinerary, including tips on sightseeing, hotels, food and transport. You may also appreciate these Thailand travel tips, this guide on where to stay in Bangkok, and this Bangkok street food tour.
Save for later: