I'm afraid I didn't think much of the BBC Good Food Show (Summer) this year. Compared to last year, there seemed to be far less of the smaller, artisanal producers that I remember coming across last year and less exhibitors over all.
There were, of course, a few stalls that I enjoyed visiting.

Nougalicious were selling a few different flavours of nougat, imported from France in huge blocks, sold by weight. Mine has mysteriously gone missing since getting home, which makes me very sad. (I can't blame Pete, he's not a fan!)

I first came across Halen Mon salts a couple of years ago, they're awfully good. The pure sea salt crystals are lovely, but if you're looking for something different, try the smoked sea salt! It was a pleasure to finally meet the lady behind the salt, Alison Lea-Wilson.

I've already shared my love for Kate's delicious Gower Cottage Brownies; I often order them to send to friends as thankyous or to cheer them up. She was doing a roaring trade!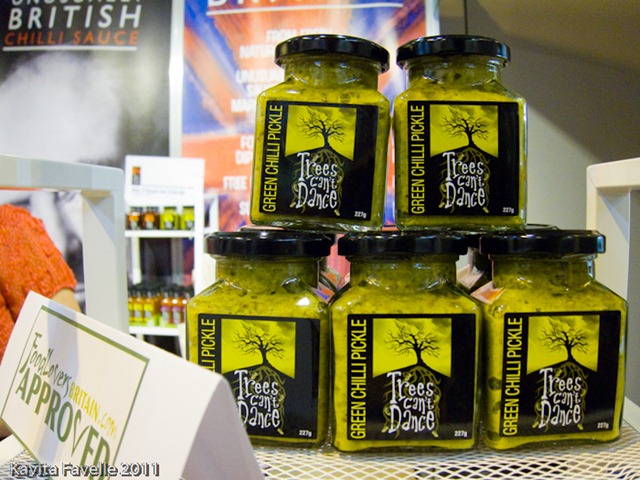 Both the name and the design of the labels for Trees Can't Dance caught my eye. The sauces we tried didn't disappoint, though they were all too hot for me, an avowed chilli wuss. They were full of colour and tasted very fresh and flavoursome, according to Pete and Ma.

I might only have been making jam for two years, but I've been enjoying it for much longer. I particularly liked the genuinely home-made taste and texture of Jenny's Jams, no longer made in Jenny's domestic kitchen, but made to the exact same recipes as when they were.
Mum and I enjoyed watching latest Masterchef winner Tim Anderson's cookalong session where he taught some eager show visitors how to make rainbow trout with steamed vegetables, daikon julienne, miso mayonnaise, and a ponzu beurre noisette. It looked delicious!
The biggest sour note for us was trying to find a decent lunch option. The Masterchef restaurant was fully booked far in advance of the day and there weren't many other eateries that offered any seating. Given how much empty space there was around the edges of the stalls, more seating would not have gone amiss.
We ended up paying £8 each for an absolutely appalling lunch by Olive magazine at their "deli". Tiny slices of very cold tart (with not even a hint of the promised caramelised onions in any of our three portions), a bland portion of potato salad, one of the most inedible coleslaws I've ever encountered (which is a shame as I adore coleslaw and am not particularly fussy about it). And to finish, a revolting raspberry and white chocolate brownie that looked nothing whatsoever like the pictures in the show brochure. Olive magazine should be ashamed at their efforts; I couldn't believe how bad this was.
Luckily, the BBC Gardeners' World Live show made up for the disappointing food show; tickets for one gave free entry to the other, making both shows pretty good value.
Kavey Eats, A London Gardener and Mamta's Kitchen attended as guests of BBC Haymarket Exhibitions.