You know how sometimes a restaurant is on your wish list for a really long time and somehow you just don't get around to visiting, and years and years go by and still you just never make it? That's how it was with Barshu, which was launched twelve years ago, and helped bring Sichuan food more firmly into the mainstream of Chinese food in London. It was followed by sister restaurant Bar Shan, the two properties located opposite each other, one on Frith Street and one on Romilly Street.
Owner Wei Shao has recently converted the Romilly street property into a new restaurant Baozi Inn, and although the restaurant space (80 covers across three floors) is broadly the same, the menu offers both Northern Chinese street food and a broader selection of Cantonese dim sum (with Sichuan and Hunan influences). Better still, the dim sum menu is available all day, alongside the street food one.
I was invited to check out the new restaurant, which has been open since May. Many of the dishes will be familiar to customers of Barshu and Bar Shan, but there are a number of new items too.
Mixed xiao long bao (soup dumplings, £9.90) are relatively new to the menu, and available for both lunch and dinner. In order of my favourites, there are three types of xlb included in this colourful selection:
The red Bloody Mary xlb, coloured with beetroot is filled with pork marinated with a Virgin mary mix plus chilli, coriander and sichuan pepper, and served with a pipette of bloody mary with rhubarb gin to inject an extra burst of liquid before eating.
The green xlb, coloured with spinach juice, contains pork mince and a spinach broth soup, this tastes like a classic xlb, and is delicious.
Turmeric is used to colour the yellow xlb; its filling combines pork and jackfruit with pork broth. It's the mildest of the three in flavour, hence at the bottom of my list!
The Chengdu Style in Dried Shrimp 'Chang Fen' (£4.50) is utterly fabulous. Thick, glutinous sheets of rice noodle rolls (which I've always known as cheung fun) are wonderfully chewy, and the simple flavourings are perfect. I could eat this every day!
Another favourite is the Sichuan Pepper Pork and Prawn 'Shao Mai' in Chilli Juice Pastry (£4.50), a wonderful variation on classic siu mai. The addition of the sichuan pepper and chilli adds a delicious extra flavour.
Chopped Salted Chilli Steamed Squid (£4.50) is just as it sounds, a small dish of steamed squid liberally topped with chilli and spring onion greens. It's decent, but not as interesting or delicious as other dishes.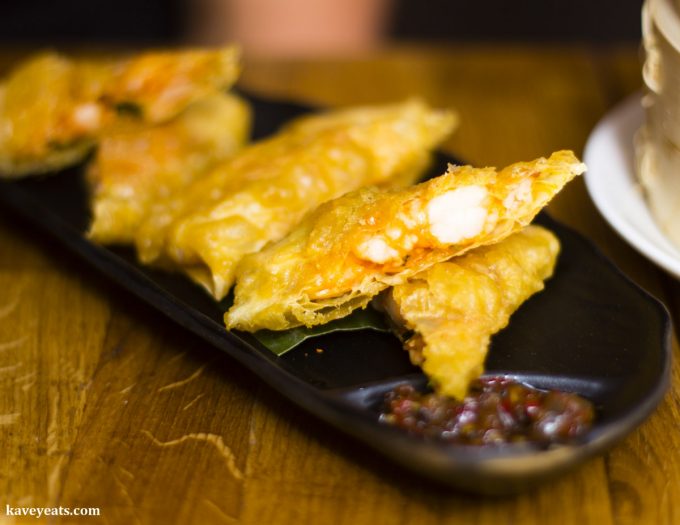 We choose Ma La Beancurd Sheet Minced Pork and Prawn Rolls (£4.50) to try something from the small deep fried section of the dim sum menu and are surprised by the generous portion, each of five pieces being a few bites in size. Delicious, crisp beancurd wrapped around plump prawns, hard to go wrong really!
Asking staff for their suggestions on must try dishes from the street food menu, we we are encouraged to order the Chengdu jiaozi, which we are told won an award last year (presumably at one of the sibling restaurants).
We choose the Chengdu jiaozi with Prawn filling (5 pieces, £6.50) and they are justifiably award-winning fantastic. The balance of textures and flavours is perfect, I love the green dumpling wrappers, and the combination of ginger and sauce (that we are instructed to thoroughly mix through the dumplings before eating) is just wonderful.
Another dish I'd happily eat every day and I will no doubt be dreaming of these dumplings for a long time!
The BaoziInn prawn brioche (£4.50) is the only dish we order and dislike. A slider-style version of sesame prawn toast, it's visually a stunner but turns out to be style over substance. A hockey puck of tasteless and bouncy shrimp sandwiched between two slices of equally tasteless bread, it doesn't work on either a taste or texture front and neither of us bother to eat more than a bite.
Luckily, the Pork belly skewer in caramelised sauce (£4.50 for 2 skewers) that arrives at the same time is far better. The pork has good texture, a nice chew without being unpleasantly chewy, and a subtle caramelisation. I really like the spice mix it's garnished with; looks and tastes like shichimi (Japanese seven spice), I think.
We both think we've eaten way too much already, but one of the staff is really keen for us to try a noodle dish and as soon as he suggests Dan Dan noodles (£10.80), a favourite dish of mine, I'm powerless to resist. The noodles are handmade and generously coated (once mixed) with a delicious soy, sesame, peanut and minced pork sauce. This is a real comfort food dish!
Already full to the gills, we share a small slice of matcha cake which is light and fresh, a good end to the meal.

Jasmine Dragon Pearl Scented Green Tea (£2.80/pot)

Although there is a decent drinks list including wine, beer, cider, sake, softies and teas, since we are mostly having dim sum, we stick to tea.
As a longtime lover of pottery (and much shorter-term amateur potter), I absolutely love the design of the tiny green teapot and cups, even more so for the realistic goldfish in the bottom of each cup. With tea poured in, the fish looks strikingly real!
The only downside of such extremely tiny cups, is that the tea cools down very fast indeed; so instead of the usual habit of topping up your companion's cup as soon as you see it's empty, here I suggest you pour yourself some hot tea just before you want to drink it!
There is so much more on the menu I want to try, including Custard baozi and large Pork baozi, Regional 'Liu Yang' black beans steamed spare ribs, Sichuan style steamed phoenix claws, Five spiced smoked fish, Crispy sweet glutinous rice, BaoziInn red-braised pork, Braised aubergine, Smoke bamboo shoot spicy beef shin noodles in broth and Special fried rice with XO sauce! Yeah, most of the menu! I shall definitely head back soon.
Save for later:
Kavey Eats dined as guests of Baozi Inn for this review.