Sometimes the simplest ideas are the best! That's definitely the case for these baked potatoes with butter and salmon roe from Tim Anderson's Your Home Izakaya cookbook. The butter is boosted with mirin and soy sauce, and the plump round salmon eggs are piled on top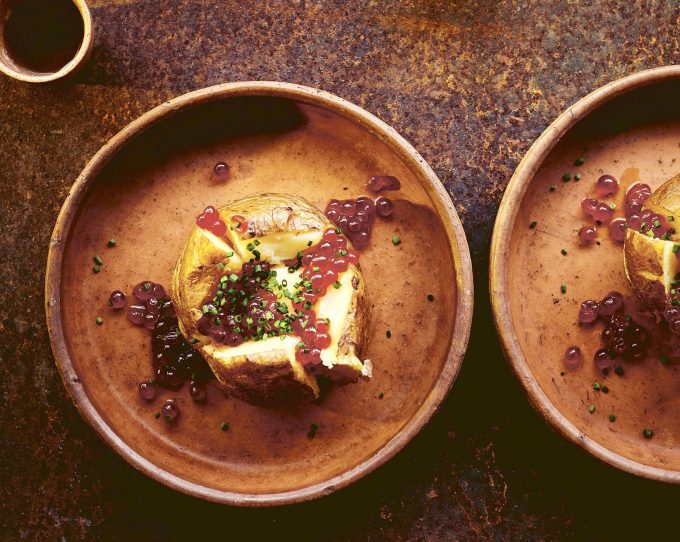 Going through an obsession with new potatoes at the time, I made a variation using little new potatoes instead of regular ones, and switching the slightly smaller eggs of salmon trout roe for salmon roe. This tweak would be perfect for canapés or party snacks.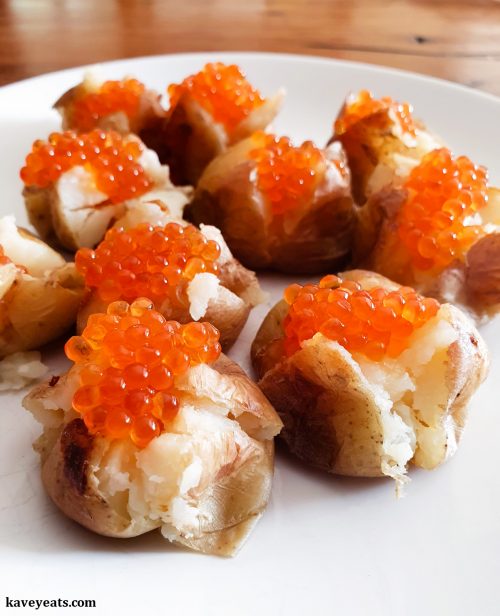 Read our full review of Your Home Izakaya by Tim Anderson.
Baked Potatoes with Butter and Salmon Roe
A while ago, my friend and fellow Japanophile MiMi Aye – the author of the wonderful Burmese cookbook Mandalay – posted a photo on Instagram of one of her favourite indulgent comfort foods, a baked potato topped with butter, spring onions and copious amounts of salmon roe. Throughout the day, I kept returning to this photo just to marvel at it (and drool a bit) – it was at once rustic and luxurious, comforting yet exciting. The Ainu, an indigenous ethnic group from Hokkaido, make a similar dish called chiporo imo: an even simpler preparation of mashed potato studded with pearls of salmon roe and nothing else. There is something so satisfying about this combination; I love how the two ingredients balance and complement each other perfectly. The little orange eggs season the bland potato with their salinity and add that lovely textural 'pop', while the potato takes the edge off the roes' fishy intensity. I know it's just potatoes and fish eggs, but there's something really beautiful about it.
Ingredients
2

baking potatoes, washed and dried

washed and dried

1

tsp

oil

2

tsp

soy sauce

50

g

(2 oz) salmon roe

½

tsp

mirin

20

g

(¾ oz) butter

1

small handful of chives, finely sliced

finely sliced
Instructions
Preheat the oven to 200ºC (400°F/gas 7). Rub the potatoes all over with the oil and half of the soy sauce, then wrap them in kitchen foil and place in the oven. Bake for 20 minutes, then reduce heat to 180ºC (350°F/gas 6) and continue to cook for about 40 minutes–1 hour until they are soft throughout (you can test them with a chopstick or butter knife).

Meanwhile, stir together the remaining soy sauce, roe and mirin and leave in the fridge to marinate as the potatoes bake.

Remove the potatoes from the oven and leave to cool slightly, then unwrap from the foil and cut into large chunks. Melt the butter over the potatoes, spoon over the salmon roe, and garnish with the chives.
The genius of this recipe is that it's so incredibly easy to make, and packed full of satisfying carbs, butter and salty pops of flavour.
Also, if you want to know more about the fabulous food of MiMi Aye, who inspired Tim's recipe, we have reviewed both her cookbooks, Noodle! and Mandalay.
If you decide to buy this book after reading our content, please consider clicking through our affiliate link, located within the post and in the footnote below.
Kavey Eats received a review copy of Your Home Izakaya by Tim Anderson from publisher Hardie Grant. Book photography by Laura Edwards. Our photography by Kavita Favelle.