A comfortable, attractive, modern Spanish restaurant in the heart of Cardiff, Asador 44 offers high quality meat, fish and vegetables cooked over charcoal and wood. The simple menu has a Northern Spanish focus, and holds particular appeal for meat lovers like us.
Our first visit is for a celebration, and we plan in advance to order from the a la carte menu, drawn by dishes such as Slow-Roasted Castillian Milk-Fed Lamb, Bone-In Steaks of Dry-Aged Galician and Welsh Beef, and Roasted Segovian Suckling Pig.
But coming straight from work, we arrive quite early and are offered the Daytime Set Menu, which is available Monday to Thursday 12-3pm and 5-6pm (last orders), and Friday to Saturday 12-5pm (last orders).
At just £10 for one course, £15 for two courses and £20 for three courses, it's a great offer, especially since the choices are pretty tempting.
For starters, we choose Seasonal tomato, ajillo, boquerones. As hoped, the deliciousness lies in the quality of ingredients – from sweet, beautifully ripe tomatoes, to a high quality olive oil with lots of flavour, to the three beautiful anchovies, lifted by garlic and plenty of herbs. It's wonderful!
So too is the Manteca terrine – spiced pork, morcilla and jamón. The terrine is beautifully textured, meaty but soft, and the spiced flavours add just the right amount of kick. The caper and fennel salad gives freshness, the toasted bread adds crunch, and a little puddle of chutney provides a sweet finish.
Unwilling to waste the garlic- and herb-flecked olive oil, muddled with juices from the sweet tomatoes, we ask for some bread to mop it up. The Bread (£3) arrives toasted with olive oil and red-onion butter, we'd be as happy with plain, untoasted slices to be honest but it works as intended.
Under Mains, the set menu offers a Lunchtime steak cut with asador fries. When we discover that the day's cut is picanha, what we call rump cap in the UK, we know we have to try it. Beautifully cooked and salted, it's an excellent piece of beef, full of beefy flavour – if you think that's a given for all steaks, trust me that it isn't! We also love the roasted red pepper and onion, and soft smoky aubergine served alongside, and the skin-on fries are decent.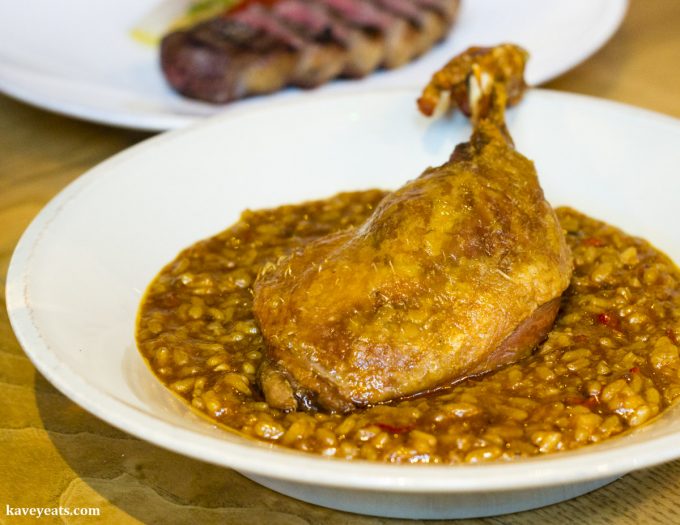 The Confit duck, piquillo and bone marrow braised bomba rice is also fantastic! The duck is cooked well, resulting in flavoursome meat and a crisp skin. I love it, but to my surprise, the rice is the star of the show here, deeply savoury and rich, making this a very indulgent dish.
I enjoy the leftovers (kindly packed up for me) for lunch the next day; just as good!
For dessert, we go for the Dessert of the day, a classic, lemony Santiago tart with compote of cherries. Simple and satisfying.
Our second dessert choice is Spanish Petit Fours and Coffee, which turns out to be a very decent coffee with a lovely plate of four delicious sweets. We may or may not have tussled more than is seemly, over these!
Service is friendly, attentive and helpful, but also relaxed, which is how I'd describe the vibe. It gets busier towards the end of our meal, as we expected given our Tuesday evening arrival.
We can't wait to visit again for those main menu dishes that are calling like sirens!