What is a Taiwanese Pineapple Cake?
Visitors to Taiwan will likely have enjoyed pineapple cakes 鳳梨酥, which are widely sold and enjoyed throughout the year. Pineapple cakes are typically square or rectangular, with a jammy pineapple filling encased in a tender short crust pastry. As such, Taiwanese pineapple cakes fall somewhere between a filled cookie or biscuit and a hand pie; not what we commonly think of as cake.
The pineapple filling is sometimes embellished with nuts, sometimes with morsels of salted egg yolk – probably an acquired taste! The pineapple cakes are usually packaged individually and sold in beautiful, sturdy gift boxes for safe transport.
If you have brought back pineapple cakes from your trip to Taiwan for friends and family, you have not only given them something delicious to eat but also your wishes for good luck. In Hokkien, a widely spoken Chinese dialect in Taiwan, pineapple has the same pronunciation as "luck arrives" 運來. Perhaps this is one of the reasons for the immense popularity of these cakes in Taiwan. The third Chinese word in the name of these treats, 酥, is a generic term for pastries with a high fat content, whether the pastry is flaky or short, baked or deep fried.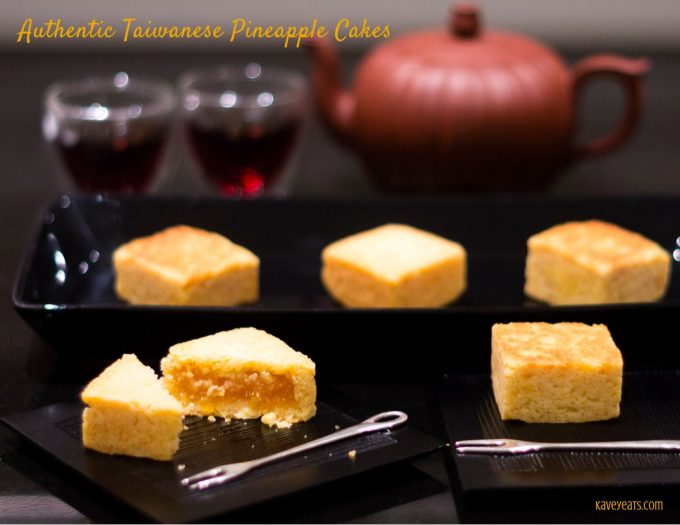 Making Taiwanese Pineapple Cakes at Home
I became interested in learning to make pineapple cakes after tasting some utterly delicious ones made by a friend. The crust was particularly tender and flavourful. I was also intrigued by how the thin pastry is wrapped around the filling in a perfectly shaped square.
It turns out that the secret ingredient in the pastry is full cream milk powder! As for shaping, I should have guessed – the filled pastry is pressed into a mould. There are many Chinese pastries traditionally shaped by pressing dough balls into carved wooden moulds, some of which can have very elaborate designs. The difference with Taiwanese pineapple cakes is that they are baked inside the metal moulds that are used to shape them.
Some pineapple cake recipes include glutinous rice flour and maltose. I think these two ingredients, which serve to stiffen the filling, crept into recipes from commercial manufacturers who substitute all or part of the pineapple with winter melon, a vegetable in the squash family that is much cheaper than pineapple, and is also softer and less fibrous. Since winter melon has little flavour, artificial flavours and colours are added to the pastries to make them attractive to consumers. If you are tempted to substitute the pineapple with other fruits, you will probably also need to add the stiffening ingredients. Beware, however, that it would eliminate the luck-inducing power of pineapple cakes.
My friend based her recipe on a version by Chinese-language blog, Carol Easy Life. This site includes instructions on how to make homemade moulds from cardboard and aluminium foil. Alternatively, you can purchase the specialist moulds online.
I have adapted the recipe further to simplify the jam filling (since we are using fresh pineapple, we don't need glutinous rice flour or maltose), and to make the pastry in a food processor instead of mixing by hand.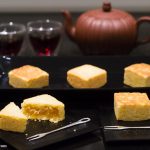 Taiwanese Pineapple Cake Recipe | 鳳梨酥
Ingredients
Pineapple Jam Filling
660

g

fresh pineapple, peeled and cored with 'eyes' removed

220

g

caster sugar

80

g

unsalted butter
Pastry
60

g

unsalted butter

40

g

shortening (Trex, Crisco or lard)

40

g

caster sugar

25

g

full-fat powdered milk

230

g

pastry flour (such as Italian 00 flour)

1

tsp

baking powder

70

g

beaten egg (this is approximately 1 ½ eggs; beat 2 eggs, then weigh and use 70g)
Instructions
Pastry Dough
Dice butter and shortening into approximately 1cm cubes. Freeze for 15 minutes.

Add dry ingredients in the bowl of a food processor and mix.

Tip frozen butter and shortening, and the beaten egg into food processor bowl, and pulse until crumbly.

Tip mixture onto a pastry mat and quickly press together with your hands to form a ball. Do not knead, to avoid gluten developing and toughening the baked crust. Press dough into a disc and place in the fridge to rest for 30 minutes.

Note: The dough can also be made by creaming together the fats and the sugar, then adding the egg, and finally combining with the dry ingredients to create a crumble. This can then be pressed together to form a ball, in the same way as the food processor method.

Baking
When all pastries have been shaped, put the baking sheet into the fridge and chill for 15 minutes.

While pastries are chilling, heat the oven to 170 C.


Return the pastries to the oven and bake 5-8 more minutes, until the top is slightly golden, checking regularly after 5 minutes. Do not over bake or the filling could expand and crack through the dough surrounding it.
Serving and Storing
The pastries can be enjoyed fresh and warm.

However, convention is to leave the pastries overnight in an airtight container, after which the crust will have become more tender.

The pastries should keep at room temperature for 3-4 days. Mine are all eaten within this this period so I'm afraid I don't know what their maximum shelf life would be.
Save this recipe on Pinterest:
Guest post by Diana Chan. Images by Kavita Favelle.