Kanada-ya is one of my favourite ramen shops in London, of those I've tasted so far. Since they launched near Tottenham Court Road in 2014, they've gained a loyal following, opened a second shop in Piccadilly Circus and are on the brink of opening their third in Angel. So ramen, so good.
Last year, Aaron Burgess-Smith and Tony Lam, the people behind Kanada-Ya, opened a different style of Japanese restaurant, just two doors from the location of their Piccadilly Circus branch of Kanada-ya. Machiya is named for the traditional wooden townhouses typical of Kyoto in times gone past – these have experienced a renewal of interest during the last couple of decades such that most surviving machiya have been eagerly renovated and re-purposed as cafes, restaurants, shops and tourist accommodation.
It's coming up to one year since Machiya opened its doors, so I was way overdue for a visit to check out the menu. Following an increasingly popular trend in London restaurants, Machiya offers all day dining with separate breakfast, lunch and dinner menus. There's also a basement bar offering cocktails, Japanese whisky and more. We went for dinner on a Monday evening in February, and the place was packed; a table was no sooner cleared away than it was taken within minutes by new arrivals.
For drinks we started with a homemade ginger soda (£3.5) and a cocktail from the downstairs bar menu, a kawaii ne (£10). The soda was a fiery and refreshing drink, all the better for not being overly sweetened. The cocktail, a mix of junmai sake, lychee & peach liqueur, yuzu juice and sake–yuzu foam, was utterly delicious, sweet and light and very easy-drinking!
The dinner menu is divided into Small Dishes, Donburi (rice bowls), Noodles, Curry and Grilled & Fried, plus Sides and Desserts. Keen to try a variety of dishes, we ordered a whopping four small dishes, but one per person would be fine as a starter unless you're really hungry!
First to arrive was the tofu custard (£4.5), silky, light homemade tofu garnished with dashi (seaweed and dried tuna broth), ginger and itogaki (dried, salted and finely shredded tuna), this was hugely refreshing and delicious.
Next, the miso aubergine (£5.5), cooked till meltingly soft, and garnished with walnuts, shichimi (a Japanese spice blend) and sweet miso paste. I enjoyed this but found the miso flavour a little too subtle for my tastes.
The wagyu gyoza (£8) were fabulously moist dumplings, full of juice and lots of flavour, with a lovely light chew to the wrapper. While the use of Australian wagyu (see below) no doubt contributed to the tenderness, I'd prefer to pay less for regular beef here, as £2 per gyoza is a little steep.
I love food on sticks, and tsukune (£4) is one of my favourites when it comes to Japanese skewers. The minced chicken balls had wonderful flavour and texture, with a lovely subtle crunch from finely diced veg, and I loved the addition of teriyaki sauce to the usual raw egg yolk (a Clarence Court egg, by the way) served alongside. Break and mix the yolk to create a deliciously gloopy sauce for your chicken meatballs. There's also a little pile of shichimi on the plate so you can dip again if you'd like a little warming spice.
Last time I visited Japan (in spring 2016) the latest trend on the Tokyo dining scene was beef katsu (as opposed to the ubiquitous pork). So I absolutely had to order the wagyu katsu (£19), even though it's the most expensive dish on the menu.
Wagyu, if you've not tried it, translates as Japanese beef, but what it's come to mean internationally is beef raised to similar standards, and which has the same very high levels of marbling that are typical of wagyu from Japan.
And just to clear up an odd little debate on terminology that's exercised some corners of the internet, katsu does not mean Japanese curry! Katsu refers to bread-crumbed and fried meat or fish, and is simply a shortening of Japanese modified pronunciation of the word cutlet (katsuretsu). In Japan Katsu is commonly served plain, with shredded cabbage, ground sesame seeds and tonkatsu sauce (much like a British brown sauce). It's also popular in katsu kare (curry), where the breaded and fried item is served with a Japanese curry sauce and rice.
At Machiya, the wagyu katsu comes with a gas burner and pan so you can cook the almost-raw beef to your liking and enjoy it sizzling hot. A small dish contains some fat in which to fry the pieces of katsu – use it or your beef will stick to the pan like glue – plus a range of condiments; a fabulous wasabi mayonnaise, tonkatsu sauce and a fiery yuzu koshu (a condiment made from yuzu peel, salt and chilli).
Oh and it was bloody delicious, by the way! The combination of crisp, bread-crumbed exterior with melt-in-the-mouth beef (clichés because they fit, damn it!) and that wasabi mayonnaise made me weak at the knees, gustatorily speaking!
Chicken, pork and salmon katsu are priced far more affordably at £8, £9 and £10 respectively, and served with shredded cabbage. I'd have appreciated some shredded cabbage with the wagyu version too, to make more of a main dish out of it.
OK, so I'm not a cheap date! The other item on the menu that I absolutely had to try was the second most expensive dish, the unaju (£17) grilled Japanese-style eel. In this dish, eel is glazed with a sweet unagi sauce (usually made from soy sauce, mirin, sugar and sake). Served in a gorgeous multi-faceted wooden bowl and lid, a generous portion of soft and moist eel sat on steamed rice; a little extra of the sauce had been allowed to soak down into the rice; it was heavenly!
On the side, we ordered seasonal pickles (£3) and a market salad (£3). The pickles were a little disappointing, with none of the finesse of presentation I'd expect, and surprisingly insipid flavours too. I love the intensity of flavour I've found in the huge array of pickles I've tasted in Japan, so these were quite a let down. The market salad of mixed leaves in a sesame and ponzu dressing was fresh and tasty.
I first tasted warabimochi (£3.5) in Kyoto, on our first visit to Japan in 2012. We visited a wonderfully eclectic cafe near Kyoto's Yasaka Shrine, and there I ordered my first amazake, with the sweet mochi as a side. Mochi is a chewy paste usually made from rice flour, and used in many traditional Japanese sweets. In these unusual mochi, warabiko (bracken fern starch) is used instead of rice flour, and the individual bite-sized dumplings are coated in kinako (toasted soybean flour). They are often drizzled with mitsu, a sticky black sugar syrup.
Machiya's warabimochi were excellent, though I'd prefer the syrup to be drizzled over the dumplings rather than around the plate – it's so thick and sticky that it's impossible to get much of it on the dumplings by dragging them across it!
My friend chose our second dessert, a matcha mille crepe (£5). Here, matcha-flavoured crepes were layered with matcha pastry cream, to create a decadent matcha overload! Super intense and very smooth in texture, this had just the right level of sweetness to balance the mild grassy bitterness of powdered green tea.
We also shared some hot tea with dessert, genmaicha (£2.7 for a pot) is a blend of green tea and roasted brown rice – the rice expands just like popcorn.
Machiya don't take bookings, so you may need to wait for a table – perhaps down in the bar if there's space. But turnaround seems pretty quick; not all customers order as much food as we did!
With our decadent over-ordering of starters, and choice of the two most expensive mains, the bill for our meal came to £90 plus service for two of us. However, you can enjoy a great meal here for far less; main dishes start at £7, most sit around £9-11 and only a few are higher, with our two choices at the top end of the range, at £17 and £19 respectively. Drinks, cocktails and desserts are also reasonably priced.
Save for later: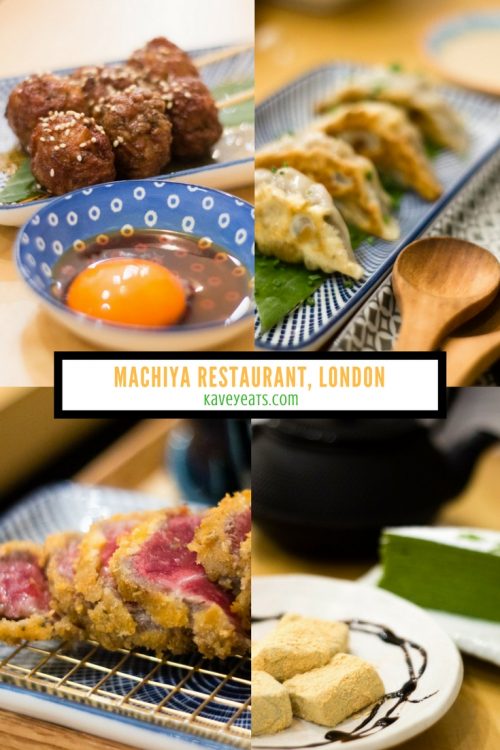 Kavey Eats dined as review guests of Machiya Restaurant.