Agedashi Tofu is one of my favourite Japanese dishes – light and simple, with a wonderful combination of textures and tastes. I am literally unable to resist it when I see it on the menu, and it's really easy to make at home. Cubes of tofu are dusted in starch flour, 'lightly deep fried' and served in a hot tentsuyu broth. Typical garnishes are grated daikon (radish), finely chopped spring onion or katsuobushi (dried bonito flakes).
The contrast between the thin, crisp surface of the tofu against the melting interior, and the hot savoury tentsuyu broth (which combines soy sauce, mirin and dashi stock) is glorious, not to mention the lovely piquancy of daikon.
This recipe is from Tofu Tasty by Bonnie Chung and published with permission from Pavilion.
Find out more in our full review of Bonnie Chung's Tofu Tasty.
In this recipe, Bonnie Chung uses conflour (corn starch) to coat the tofu before frying and this works very well indeed. If you prefer, you can use potato starch instead; both are commonly used for this dish.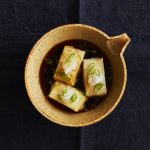 Agedashi Tofu
I would not dream of eating in an izayaka (Japanese pub) and not ordering this dish. For me, it is compulsory. Outside Japan, I still find excuses to order it, or, even better, to make it at home. Agedashi tofu is essentially a crispy deep-fried tofu, served in a seasoned soy-based sauce, with grated radish and toppings such as spring onions and bonito flakes. If you don't mind deep-frying at home, this is a quick and easy starter or side dish, and incredibly easy to get right.
Ingredients
500

ml

(18fl oz / 2 generous cups) dashi

5

tbsp

light soy sauce

5

tbsp

mirin

400

g

(14 oz) soft or silken tofu, drained for 20 minutes (see Notes)

6

tbsp

cornflour (corn starch)

vegetable oil, for deep-frying

2

spring onions (scallions), finely sliced

1

tbsp

grated daikon (white radish), to serve (optional)
Recipe Notes
Draining fresh tofu: Fresh tofu is normally sold in a tray of water that keeps it moist and fresh, but usually you do not want all that extra liquid in the finished dish. So, for all dishes using fresh tofu, draining is required. Simply place the tofu in a fine-meshed sieve over a sink to drain off the excess water. Depending on the type of tofu, this could take up to forty minutes.
Twists: Bonito fish flakes are a traditional topping for this classic dish, adding extra umami as well as providing a pretty pink crown for the tofu pieces.
Instructions
Prepare the sauce by mixing the dashi, soy sauce and mirin together in a bowl.

Next, slice the tofu into 4 x 100g/3½ oz blocks and coat the pieces in the cornflour.

Fill a large saucepan or wok with enough oil to sit at least 2cm /¾ inch deep and heat it up for 3–4 minutes. As always when deep-frying, be very careful and do not leave the kitchen or take a telephone call.

Drop 2 of the tofu blocks into the oil; they should sizzle immediately. If they don't, the oil is not hot enough. Fry for 3–4 minutes until lightly golden brown, then lift out onto kitchen paper (paper towels) to drain off the excess oil. Fry the remaining 2 pieces in the same way before serving up into bowls.

Divide the sauce between the bowls, pouring it around the tofu, not on top of it.

Scatter with spring onions and grated daikon to serve.
The flavours and textures of this dish are utterly transportive and took us back to many wonderful meals in Japan.
Give it a go and let us know how you get on!
More tofu recipes on Kavey Eats.
If you decide to buy this book after reading our content, please consider clicking through our affiliate link, located within the post and in the footnote below.
Kavey Eats received a review copy of Tofu Tasty: Imaginative Tofu Recipes  by Bonnie Chung from publisher Pavilion. Photography by Yuki Sugiura.