Since its inception in 1999, the Abergavenny Food Festival has become a wonderful celebration of all things food, bringing together chefs, farmers, food producers, food and drink authors and journalists, restaurateurs, and many more with a foot in the food industry. Visitors love the laid back and welcoming vibe of the festival, and the opportunity it provides to learn more about food, and to engage with the experts.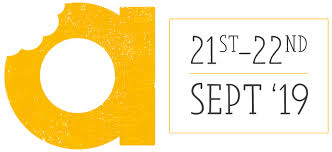 We've attended the festival a few times, and I've even participated in a couple of them – I ran an informal Blogger's Chat Room over breakfast with Rude Health one year, and stepped forward to deliver one of Rude Health's rants another. But more often, we attended as regular visitors, browsing and taking advantage of everything the festival has to offer.
Since Pete and I moved to Abergavenny earlier this year, we've been even more excited to attend as local residents.
The Best Things About Abergavenny Food Festival
It's an affordable and great value festival. Earlybird tickets are now on sale at £10 on Saturday, £8 on Sunday or £15 for both days. These give you access to wander freely around the festival, and include lots and lots of free events and demonstrations.
There are many additional cookery classes, demonstrations, talks and tastings available, these are priced individually and always very popular. If you are interested in attending these, buy your tickets as soon as you can. I've attended many of these events and they have all been really good, hosted by some of the best names in food and drink.
This years line up of speakers (for free and paid events) includes Anissa Helou, Asma Khan, Bee Wilson, Cyrus Todiwala, Diane Henry, Elly Pear, Fiona Beckett, Genevieve Taylor, Jekka McVicar, John Whaite, José Pizarro, Mark Diacono, Olly Smith, Patrick Holden, Pete Brown, Sandor Katz, Tim Hayward, Trine Hahnemann, Xanthe Clay, Zoe Adjonyoh, and many more. I'm also pleased to see Josh Byrne on the list, having discovered The Black Bear Inn in Bettws Newydd only recently – Avergavenny Food Festival has always been a huge supporter of rising stars within the industry.
Unlike some food shows, the quality and relevance of exhibitors is very high. You won't find stalls selling ironing board covers, waterproof doggie coats, or cars! The organisers select exhibitors carefully, to maintain the festival's focus on quality food and drink, and I always discover many wonderful and delicious things, as well as enjoying old favourites. I've also learned how much exhibitors truly love being at Abergavenny, which shows in the way they engage with visitors.
Stands and event venues are spread out across Abergavenny town centre, giving exhibitors and visitors plenty of space. Even on Saturdays, it doesn't feel as crowded and crushed as some big-name shows I've been to. It's also a lovely way to enjoy Abergavenny itself, with its many historical buildings and some really great local restaurants.
The Festival is very proud of its role in transforming the way people think about food. There are topical debates on what are often thorny issues, talks that make us look differently at where our food comes from today and how we might face the challenges of the future, with new ideas often pushing the boundaries of current thinking.