Since its inception in 1999, the Abergavenny Food Festival has become a wonderful celebration of all things food, bringing together chefs, farmers, food producers, food and drink authors and journalists, restaurateurs, and many more with a foot in the food industry. Visitors love the laid back and welcoming vibe of the festival, and the opportunity it provides to learn more about food, and to engage with the experts.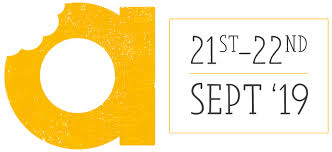 We've attended the festival a few times, and I've even participated in a couple of them – I ran an informal Blogger's Chat Room over breakfast with Rude Health one year, and stepped forward to deliver one of Rude Health's rants another. But more often, we attended as regular visitors, browsing and taking advantage of everything the festival has to offer.
Since Pete and I moved to Abergavenny earlier this year, we've been even more excited to attend as local residents.
The Best Things About Abergavenny Food Festival
It's an affordable and great value festival. Earlybird tickets are now on sale at £10 on Saturday, £8 on Sunday or £15 for both days. These give you access to wander freely around the festival, and include lots and lots of free events and demonstrations.
There are many additional cookery classes, demonstrations, talks and tastings available, these are priced individually and always very popular. If you are interested in attending these, buy your tickets as soon as you can. I've attended many of these events and they have all been really good, hosted by some of the best names in food and drink.
This years line up of speakers (for free and paid events) includes Anissa Helou, Asma Khan, Bee Wilson, Cyrus Todiwala, Diane Henry, Elly Pear, Fiona Beckett, Genevieve Taylor, Jekka McVicar, John Whaite, José Pizarro, Mark Diacono, Olly Smith, Patrick Holden, Pete Brown, Sandor Katz, Tim Hayward, Trine Hahnemann, Xanthe Clay, Zoe Adjonyoh, and many more. I'm also pleased to see Josh Byrne on the list, having discovered The Black Bear Inn in Bettws Newydd only recently – Avergavenny Food Festival has always been a huge supporter of rising stars within the industry.
Unlike some food shows, the quality and relevance of exhibitors is very high. You won't find stalls selling ironing board covers, waterproof doggie coats, or cars! The organisers select exhibitors carefully, to maintain the festival's focus on quality food and drink, and I always discover many wonderful and delicious things, as well as enjoying old favourites. I've also learned how much exhibitors truly love being at Abergavenny, which shows in the way they engage with visitors.
Stands and event venues are spread out across Abergavenny town centre, giving exhibitors and visitors plenty of space. Even on Saturdays, it doesn't feel as crowded and crushed as some big-name shows I've been to. It's also a lovely way to enjoy Abergavenny itself, with its many historical buildings and some really great local restaurants.
The Festival is very proud of its role in transforming the way people think about food. There are topical debates on what are often thorny issues, talks that make us look differently at where our food comes from today and how we might face the challenges of the future, with new ideas often pushing the boundaries of current thinking.
Abergavenny Food Festival Ticket Giveaway [CLOSED]
We are hosting an Abergavenny Food Festival giveaway to readers of Kavey Eats.The prize is a pair of weekend wristbands (providing festival entry for Saturday and Sunday) plus a pair of tickets to attend "The Way We Eat Now", a conversation about what it means to eat in the modern age and what are food choices say about it. The talk is hosted by award-winning food writer Bee Wilson, with diverse guests including Ed Gillespie, founder of specialist sustainability communications agency, Futerra, and god-father of all thing's fermentation, Sandor Katz, and takes place on Saturday 21st September at 1 pm in Abergavenny's Borough Theatre.
The prizes include delivery of entry wristbands and event tickets to a UK address.
How to enter
You can enter the giveaway in 2 ways – entering both ways increases your chances of winning:
Entry 1 – Blog Comment Tell me why you'd love to attend this year's Abergavenny Food Festival.
Entry 2 – Twitter Follow @Kavey and @afoodfestival on Twitter. Then tweet the exact sentence (shown in italics) below.
I'd love to win weekend tickets for two to the Abergavenny Food Festival 2019 from @Kavey and @Afoodfestival. http://bit.ly/KaveyEatsFoodFest #KaveyEatsAbergavennyFF19
Do not add my twitter handle or any other twitter handle to the beginning of the tweet or your entry will be invalidated. Please don't leave a blog comment about your tweet either; I track twitter entries using the competition hash tag.
Rules, Terms & Conditions
The deadline for entries is midnight GMT Friday 2nd August 2019.
The winner will be selected from all valid entries using a random number generator.
Entry instructions form part of the terms and conditions.
Where prizes are to be provided by a third party, Kavey Eats accepts no responsibility for the acts or defaults of that third party.
The prize is one pair of weekend entry wristbands to the 2019 Abergavenny Food Festival and one pair of tickets to attend "The Way We Eat Now", including delivery of tickets to a UK address.
The prize is offered directly by the Abergavenny Food Festival and cannot be redeemed for a cash value. Tickets to the specified event cannot be exchanged for any other event.
One blog entry per person only. One Twitter entry per person only. You may enter both ways but you do not have to do so for each individual entry to be valid.
For Twitter entries, entrants must be following @Kavey and @afoodfestival at the time of the draw.
Blog comment entries must provide a valid email address for contact. Your email address will be stored until the giveaway is completed and notified winners have responded. Please see our Privacy Policy for further information.
The winners will be notified by email or Twitter so please make sure you check relevant accounts for the notification message.
If no response is received from a winner within 10 days of notification, the prize will be forfeit and a new winner will be picked and contacted.
Images for 2012 collage, my own. Images for 2018 collage by Neil White.
The winner of this giveaway is Aly (blog comment entry).