"Grass-fed" is one of the descriptions I'm starting to see more frequently on beef and lamb (and mutton) in our butchers and supermarkets. But, as is often the case, this one label can cover a wide range of truths. Livestock only have to be 51% grass-fed for their meat to carry this label; the other 49% can be a mixed bag of grains, corn, soy, as well as by-products of food manufacturing (such as bread and biscuit waste).
One of the masterclasses we attended at this year's Abergavenny Food Festival was all about Pasture-fed Mutton.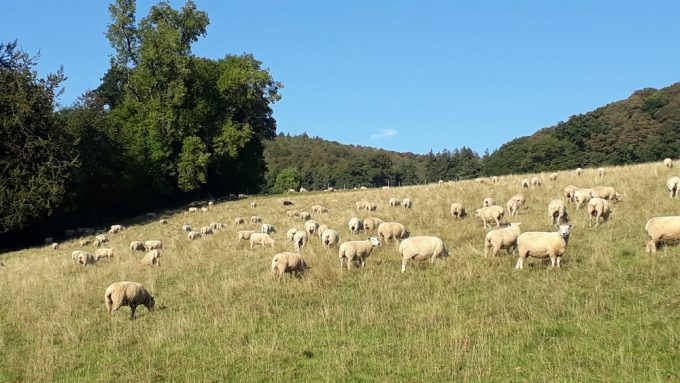 Hosted by journalist and farmer Sarah Dickins, in conjunction with Pasture for Life and five British sheep farmers producing 100% pasture-fed meat, the session was hugely informative, and gave us the opportunity to eat prodigious amounts of absolutely phenomenal mutton and lamb.
Cyrus Todiwala guest presented, having long been a ambassador of high quality British mutton and lamb, providing insight on how to get the best from mutton and lamb. Jane Baxter was in the kitchen cooking up the delicious shoulders and loins provided by each farmer.
Central to the discussion was how much of a difference breed and feeding on pasture make to the taste and texture of the meat. Each farmer told us about their sheep, and their landscapes, in many case wholly unsuitable for other kinds of farming, but perfect for grazing sheep.
The mix of grasses, wild flowers and other plants are not only a feast for the sheep, they are also hugely beneficial for our native wildlife, including bees and other insects. It's also important to match the breed to the landscape and environment, with some doing better in higher mountain settings, and others better suited to protected valleys.
Of course, animals that are 100% pasture fed don't necessarily spend the entirety of their lives outside, though they certainly spend a fair amount of time outdoors. When grass is scant, or hidden under snow, they are given shelter, and fed on conserved grass instead. This can be hay (dried grass), silage (fermented grass, sometimes described as pickled) or haylage (a drier form of silage). They key point is that it's still grass, rather than grain or other commonly-used livestock feed.
You can find out more at the Pasture for Life website, which explains the benefits in more detail. The organisation also certifies farmers that raise their animals to stipulated standards, and produce meat and dairy that is 100% pasture-fed. This covers beef, mutton and lamb, and dairy.
At the moment, there are very few certified farmers in Wales, though we were told some were on the verge of receiving certification.
We tasted mutton from five producers:
The most local to us was from Pen Y Wyrlod Farm, just north of Abergavenny, and run by Nick Miller and Sarah Dickins. Selectively bred since the 19th century, Black Welsh Mountain sheep are prized for their rich flavour, and are also well suited to less productive pasture. The farm, largely unchanged since it was first established in 1541, is a 50-acre estate on the south facing slopes of Skirrid Mountain The herd is pedigree breed, the farm is Soil Association certified organic, and the meat is Pasture Fed Livestock Assocation accredited. The leg mutton we tasted was from a 7 year old ewe, hung for four weeks. The meat was incredibly tender and with an incredibly rich, deep and slightly sweet flavour.
Our second sample was from Cherry Wood Farm in Herefordshire, produced by Chris and Tricia Stockdale. Cherry Wood grow Lleyn sheep, a breed that originates in Anglesey. This breed lambs early, is prolific (triplets are common) and is a hardy sheep, suited to organic farming. When the Stockales bought their farm 30 years ago, it had been part of an intensively farmed unit, with a small piece of ancient woodland featuring well-established old, wild-cherry trees. They have turned it into a biodynamic organic farm, planting additional hedges and trees to provide more shelter to their flock of Lleyn sheep and herd of Hereford cattle. The land is mostly permanent grassland with a diverse range of other plants that encourage insects and wildlife. The leg meat we tasted was hogget from an 16-month old ewe. It was very tender, and quite mild in flavour.
Next up was mutton farmed by Tobias and Kate Lovell, near Hereford. The Lovells raise Shropshire Sheep, a medium-sized breed that is docile, prolific and well suited to grazing in orchards. The sheep spend spring and summer grazing in the family cider orchard, owned by Toby's uncle and cousin. This not only makes for very tasty lamb and mutton, the sheep are also a boon for the orchard, clearing leaves and windfall apples from beneath the trees. We tasted leg mutton from a 5 year old ewe hung for 5 weeks. Although it was not quite as tender as our first and second samples, the flavour was excellent, almost beefy in intensity, and with particularly beautiful flavour in the fat.

Fourth to taste and learn about was mutton from Conygree Farm in the Cotswolds, farmed by Jonty and Mel Brunyee. Their Cotswold breed sheep are descended from flocks that grazed the hills of the region in Roman times. The mch-prized wool, known as the golden fleece, was a major export in the middle ages. The breed's popularity waned and by the 1960s, it was an endangered breed with only 200 pedigree ewes in the UK. Since then, the rare breed has seen a resurgence, and Conygree now have a flock of 50 pedigree Cotswold ewes, plus a few crossed to a Hampshire ram. They also have a herd of Hereford cattle, and native breed pigs. The sheep are raised on the farm's wildlflower grassland, a haven for wildlife, and fed on grass and herbs all year round. The leg mutton we tasted was another intensely flavoured sample, and the most tender of the five. The fat also had a rich and distinct flavour of its own, which somehow put me in mind of Italy; perhaps the herb the ewe fed on coming through in the flavour.
Our last mutton was produced by Simon Cutter at Model Farm in Herefordshire. His sheep are a breed known as Easycare, crossed from Wiltshire Horn and Nelson Welsh Mountain breeds. The Wiltshire Horn is one of Britain's oldest breeds, and is a large sheep, hailing originally from the Downs of South Central England. It lost favour when wool became more important than meat, as the breed is raised purely for meat. Welsh farmer Iolo Owen bred the cross he named Easycare, to create a excellently-flavoured, high-yield, low-maintenance breed – the Easycare shed their wool naturally, and don't need shearing. Simon has been a pioneer of traditional organic farming for decades, and today he raises 100% pasture fed sheep and cattle, using a forage crop rotation system to produce natural winter feed. The mutton came from a 9 year old ewe, hung for four weeks, and butchered by Simon's son Jonty Cutter. The leg meat was tender and with a good flavour, and the taste lasts in the mouth longer than the other four samples. It's also much saltier (which could be down to seasoning before cooking).
Our biggest takeaway from this masterclass was not just how full-flavoured and delicious the mutton was, but how tender it was too. This, paired with the knowledge that this kind of sheep farming is high welfare, very sustainable, and a huge boon for our native wildlife, gives us plenty of reason to make the effort to seek out 100% pasture-fed mutton (and indeed lamb, beef and dairy).
Kavey Eats received a press pass to attend the Abergavenny Food Festival and masterclasses. Images of sheep and lambs from Pasture for Life and Black Welsh Lamb, with permission.