Are you thinking of travelling to Cartagena in Colombia any time soon?
Well, if you didn't already know, Cartagena is one of Colombia's most visit tourist cities and very rightly so. As one of the first Spanish colonies in the Americas, Cartagena was once a powerful port city for the Spanish conquistadors. A lot of the wealth gained by the Spaniards in that era was attributed to this beautiful city.
Today, Cartagena and has many things to do and see for all types of travellers. Whether looking for a luxury getaway or travelling on a backpackers budget you won't be disappointed.
Maybe you've already booked a trip to Colombia and looking for things to do in Cartagena? In this guide, we are going to look at some of the cultural activities you can do on and off the beaten track.
7 Awesome Things to do in Cartagena
Before we get into this awesome list of things to do in Cartagena, though, it's worth mentioning that these activities have been inspired by my latest trip to South America where I travelled from Colombia down to Argentina and up into northern Brazil.
Out of all the cities I visited on that trip, Cartagena quickly became one of my favourites. With its rich culture and historic feel. Cartagena is one of the locations that I still talk about today and recommend people visit on any trip to the Caribbean or South America.
Now it's time to see what one can get up to in one of Colombia most visited cities.
1# Walk along the Historic Wall (UNESCO SITE)
There is no doubt that the walled city of Cartagena is the most popular things to do in Cartagena. However, one thing you must remember is the importance of the wall and the significance it has for the city.
Many people say it can be quite chaotic inside the city itself, whether it's a street vendor mithering you to purchase or a taxi beeping its horn. So, when you really want to appreciate the location in a quieter setting just walk out to the wall.
You can walk right along the wall and see views of the sea and feel the cool ocean breeze. Avoid doing this on a wet day because the surface can get quick slippery but don't let that put you off if you have limited time.
2# Explore Castillo de San Felipe
Most of the Colonial history and wealth of the Spanish in Colombia can be attributed to this one location. It was the biggest fort that the Spaniards built in the whole of Latin America. You can not come looking for things to do in Colombia and not visit this odd looking castle.
It really is huge and provides panoramic views of Cartagena and beyond. After all, it is built on the second largest hill in Cartagena.
There's a labyrinth of underground tunnels that will keep you entertained for a while. If travelling with young children, they will love it here because there are hidden things for them to discover.
However, depending on your plans, I'd recommend visiting here towards the end of the day. It's recommended you visit when the weather cools down a little, as it can get roasting hot at the top. If you have no choice but to visit during the peak of the daytime, be sure to buy some water before you enter, carry sunscreen and even some decent sunglasses.
Maybe you're really intrigued by this famous UNESCO site if so, you can get a private or group tour guide from which you can learn even more about its history.
3# Meet the Palenqueras
Within South American culture the women of Palenque known as Palenqueras in Spanish have become somewhat of a tourist attraction in their own right. Without a doubt much more than an attraction, these colourful ladies you'll see without trying on any stroll through the Walled City will make you feel welcome.
Although seeing fruit sellers in Colombia isn't an uncommon sight. The Palenqueras have a unique history and are native to San Basilio de Palenque – a small town to the south of Cartagena, known as one of the first free towns of the new world. Most of these women travel from San Basilio de Palenque on a daily basis to work in the walled city.
Many travellers to Cartagena line up to have their picture taken with these colourfully dressed women. Don't miss out on this one, if you speak Spanish they are usually very friendly and easy to approach. Even if you don't want to buy any fruit, there is still an opportunity to interact with these women, just crack a smile or marvel at their exuberant outfits.
4# Enter Ciudad Amurallada
Ciudad Amurallada is the Spanish name given to the walled city of Cartagena. This the focal point for most travellers to the city.
Whether by day or night you can stroll around here freely. You'll find everything from boutique hotels and luxury shops to unique handcrafted souvenirs and paintings.
Not only will you see the most well-preserved colonial buildings, but Ciudad Amurallada is the home to some of Colombia's finest restaurants. Many world-class chefs have already established themselves here. If you're just looking for a snack or something light to eat you'll quite easily find coffee shops and bakeries. Or, one of the many street food offerings.
At night there's a fair share of bars and even performing art shows to keep you entertained. Fed up of walking? You may want to take one of the many horse-drawn carriage rides that gallop around the city. It is very easy to get lost in this maze-like city.
One thing that many people dislike, though, is the constant need for people to stop you and ask to buy their product or service. However, this could be seen as part of the charm of Ciudad Amurallada itself. It is very easy to talk and connect with people.
By night the city turns into a party centre for anyone who is willing. You'll find the streets turn quite and there are other areas more concentrated on nightlife. The walled city truly cannot be missed by anyone looking for things to do in Cartagena as it is the heart of the city.
5# Visit Getsemani
Getsemani is a neighbourhood of Cartagena that you can get to on foot from the walled city. Here you'll encounter a different vibe that is more vibrant in terms of street art and the number of hostels and young people that frequent the area.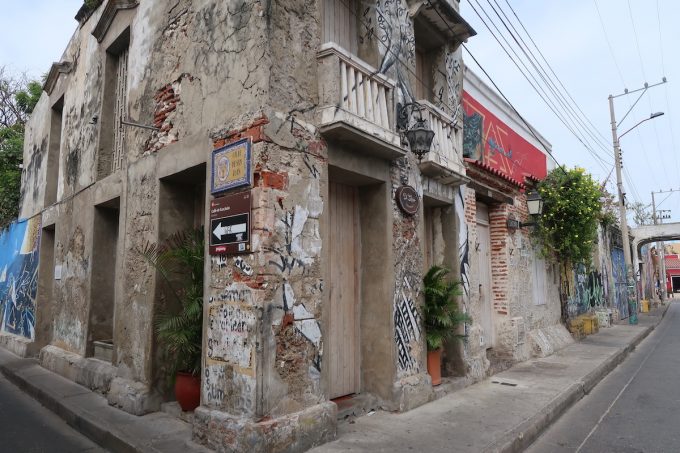 Popular with backpackers and travellers who want to escape the walled city. Although the ever-changing Getsemani gives you a chance to walk around without seeing so many street vendors. You can still expect to buy something, but at the same time, feel that you're in an authentic neighbourhood.
Watch locals as they play dominos in the street, photography colourful houses and sample some delicious street food. Being so close to the Walled City, Getsemani is not to be missed.
6# Relax at Espiritu Del Manglar Park
Take time to visit Espiritu Del Manglar Park. It is best reached by taxi from the walled city or within walking distance of the walled city if you prefer. Many travellers looking for things to do in Cartagena miss this attraction. It is a spacious green space with filled with paths and common areas, statues and various cultural activities.
This is the ideal place to be able to escape the chaos of the Cartagena and learn something new about Colombian culture. The entry to the park is free it is definitely a must if you are travelling with kids as there are things do for children of all ages.
7# Do a Tour of Bazurto Market
If you're feeling a little more adventurous and want to have a more local experience in Cartagena. A tour around the Bazurto Market is one option. It is most certainly vibrant and authentic but probably best if you have an experienced guide with you. Firstly it's not so easy to get to plus there is so much to see it can be quite overwhelming on the first arrival for some.
Unlike Manglar Park this is not a place for kids but if you want to go one notch deeper in seeing how daily life in Colombia's Caribbean work it is a must. If you speak Spanish this is a great opportunity to be able to practice with locals. Make sure you wear some comfortable walking shoes because the floor is not the cleanest.
Feeling inspired by Colombian food? Try this recipe for Posta Negra Cartagenera (Cartagena Braised Beef).
Visiting Cartagena
Now you have a better idea on what to do in Cartagena, how will you spend your precious time exploring this historic city? With this list, you should be inspired to get to know more.
Although very touristic for the most part Cartagena has some great secret locations that a much less frequented by tourists.
By positioning yourself in the walled city you are also within easy reach of some of Colombia's best beaches and private islands. The best thing you can do before seeking them out though is to ensure you see the real gem of Cartagena which is the walled city.
Save for later:
Images copyright Daniel James at Layer Culture. Used with permission.