Like many of you, I've been thinking about Christmas gifts – what I'd like to receive myself and what might make the perfect present for others.
Here are 36 ideas that I'd like to share with you… I hope some of them give you some inspiration for your own Christmas shopping or wish lists!
Doy Bags
I have two doy bags, a Banana Ketchup shopper and a larger Jungle Juice shopping bag, which I bought a few years ago and still use regularly. I always get smiles and comments when out and about with these sturdy bags and am often asked about them.
In a nutshell, doy bags are made from recycled doy packs (the small foil pouches which are most associated with Capri Sun here in the UK but are much more widely used in East Asia). They are collected, washed, prepared and sewn into products by a women's cooperative in the Philippines. Not only does the income help some of the most impoverished families in the region to improve their lives, it's also a model of environmentally friendly recycling.
Doy Bags also make desk tidies, aprons, purses and backpacks, coasters and Christmas ornaments.
Jar Tops
I love these clever jar tops from Dutch company, Royal VKB – they screw onto standard jars and transform them into useful household objects. Get creative and leave the labels on some of your favourite condiments and jams for an even funkier look.
Rachel Lucie Johns Handmade Jewellery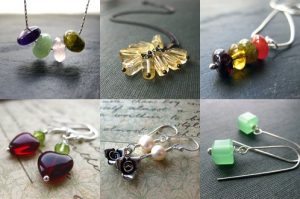 I went to sixth form college with Rachel over 20 years ago. When we recently re-connected online, I discovered that she is now based in Yorkshire where she designs and makes hauntingly beautiful jewellery using sterling silver, semi-precious stones and freshwater pearls. I covet more than half the collection, especially that Sahara necklace, top centre.
Salad Plant
These salad servers are disguised in plain sight as an attractive potted salad plant. I think they're rather adorable and would make a lovely gift for anyone who loves both cooking and gardening.
Love Bird Bowls by Prince Design
I found these beautiful love bird bowls by Prince Design when browsing through folksy.com – a site where makers of beautiful things can sell to an appreciative market. They also make some delightful hanging ornaments, based on similar designs.
John Lewis Picnic Tiffin Box
It's probably the Indian in me – countless memories of childhood picnics Indian style – but I think these stylish and modern tiffin boxes from John Lewis are gorgeous, available in bright and woodland colour schemes.
Lego Figures Ice Cube Tray
I know a surprisingly large number of people who I reckon would love this Lego Figures Ice Cube Tray!
Midori Photo Notebooks
I have an addiction to notebooks which I buy in copious amounts and squirrel away in a drawer for use as travel journals on my holidays. I reckon one of the reasons I have such itchy feet is the size of my notebook collection – I need to travel more to reduce the notebook mountain! I confess that I was first drawn to the Midori range, on The Journal Shop's fabulous website because I love that vibrant green melon liqueur of the same name but then spotted these inexpensive photo notebooks, several of which are ideal for food lovers.
Also worth checking out are Midori's leather bound traveller's notebooks and the CIAK ecological notebooks.
Fuller's Vintage Ales
Pete enjoyed his first Fuller's Vintage Ale (2004) earlier this year and is planning to buy some more vintages very soon. Available directly from Fuller's brewery shop, selected Waitrose stores and other stockists.
Pierre Hermé Macarons
If someone you know loves macarons and hasn't tried Pierre Hermes' beauties, get them a box and make their Christmas! Available in the UK from Selfridges food hall.
That's My Jam Watermelon Jelly
This watermelon jelly seems to ship only within the United States but I'm listing it for my US-based readers. I'm absolutely going to try and make my own watermelon jam next summer!
Hanne Rysgaard Ceramics
Bristol-based ceramicist Hanne Rysgaard produces these funky jugs in the shape of milk and juice cartons.I particularly like the floral designs.
Brown & Forrest Smoked Meat & Fish
I can personally vouch for Brown & Forrest's smoked black pudding, duck, eel, salmon, trout and more having tasted a wide selection during my visit earlier this year.
Catalan Cooking Classes
The inimitable, indomitable Rachel McCormack offers fun and informative Catalan cooking classes with lots of hands on experience and plenty of opportunity to ask questions, and much eating of good food. You'll hear rave reviews from everyone who's been lucky enough to have attended.
Elf Candle Holders
How can anyone resist these kitch little elf candle holders from CB2?
Lush Bath Melts and Ballistics
I've been a fan of Lush since they opened their first London shop many years ago. I love the kerplunk fizz of their bath ballistics but more commonly choose their luxurious bath melts, which are even kinder to my skin. A selection of ballistics are available in a handy gift tin. The bath melts haven't been incorporated into a similar selection box but if you pop into a store you can make up your own. My favourites are Dreamtime, Floating Island and You've Been Mangoed.
Imperia Pasta Machine
I've been coveting a pasta machine for ages, even though we have absolutely no space to keep one. I consistently read good things about the Imperia models such as this SP150, sold here with some attachments.
Gower Cottage Chocolate Brownies
After falling head over heels for these decadent, sinfully good chocolate brownies from Gower Cottage I have sent them as gifts to several family members and friends as birthday gifts, thank you gifts and general I-love-you gifts.
Gingerbread House Kit
I had great fun making my first ever gingerbread house this year but if you want to take the short cut, this kit from Lakeland might fit the bill.
Bodum Bistro Mug
Odd for one who likes her tea and coffee to cool down a fair bit before drinking, but I love the idea of double-walled glass mugs such as this one from Bodum.
Brays Cottage Pork Pies
Having met Sarah of Brays Cottage Pork Pies on twitter, I was very keen to try her much-raved about pork pies. Now I've done so, I can vouch in person for how very, very good they are. Available in small or humungous sizes, mail order.
Book Darts
I just won a set of these clever Book Darts on Fig Jam & Lime Cordial. They are precision-cut, paper-thin metal markers that can be used to mark pages in a book far more elegantly than my usual approach of scattered yellow sticky notes or, messier still, torn scraps of envelopes!
Paladone Happy Man Corkscrew
Yes, it's very obvious humour but it makes me giggle. Paladone Happy Men are also available as bottle stoppers and bottle openers.
Pong Cheese
If any of your friends love cheese even half as much as I do, they'll surely be delighted with a box of top quality cheese? I've ordered my own Christmas cheese selection from Pong for delivery a few days before Christmas, so I have put my money where my mouth is!
Fire & Knives
Look no further for top quality food writing than this quarterly publication, launched by food writer Tim Hayward last year. Aiming to showcase the best work by both established and new food writers – often pieces that would not be published elsewhere – Fire & Knives is not only a superb read but also a work of art for graphic design, printing and typography geeks.
Tiger Spices and Spice Mixes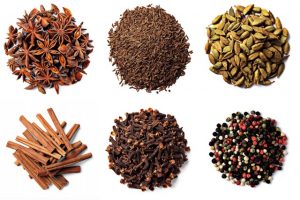 I love Tiger stores! I'm lucky in that there's one just a few minutes walk from my house, which is just as well, since they don't have an online shop. If you can find a handy store to visit (most are in London), I recommend their fantastic value £1 packs of spices and spice mixes. Only a small fraction of the range is shown on the website – you'll be seeing some of the more interesting spice mixes here on Kavey Eats in January.
As well as spices look out for cute kitchen crockery and utensils, hobby craft items, storage solutions, kids toys and all kinds of random knick knacks, all at pretty low prices. I really like their owl design crockery, not listed on the website.
Wild Garlic Foraging Courses
It's no secret I'm a huge fan of Mat Follas' The Wild Garlic restaurant in Beaminster, Dorset. Last year I attended one of his land and sea shore foraging courses. He's offering an expanded range of courses for 2011, which are proving very popular.
My Cuppa Mugs
I love the idea of these tea and coffee mugs with colour strips along the inside to give guidance to friends and colleagues on just how you like your tea or coffee.
Ganesha Felt Decorations
I love the range of felt Christmas decorations from Ganesha, especially their snow leopards and ibexes.
Mamta's Kitchen Aprons
Yes, let me remind you that Mamta's Kitchen aprons are still available! Made by a catering industry clothing specialist, the bib apron we chose is made of heavy-weight 100% cotton. The corners are reinforced for strength and the anti-tangle ties are long enough to cross behind your back and tie around the front. We particularly like the generous width and length which provide more protection than other aprons we have tried. Even with the (beautifully detailed) embroidery, the apron can still be machine-washed at 40 degrees. A great gift for fans of the site!
Waitrose Cooks' Ingredients
I'm a big fan of the Waitrose Cook's Ingredients range – all those I've tried have been of excellent quality. A selection of these would make a great home-made hamper for anyone who loves to cook.
Inish Turk Beg Whiskey
To my surprise (since I don't usually care for whiskey or whisky) I found myself falling for Inish Turk Beg's single malt offering both on taste and because of the utterly gorgeous hand-blown bottle. ITB are based on an island off Ireland's West Coast, in County Mayo and this is their first whiskey. As a limited edition special, it's an expensive gift, but if you've been struggling for something for a very special someone, do take a look. I was able to sample the whiskey in Harvey Nichols, where there are tastings on offer of the whiskey and Inish Turk Beg's smoked fish products.
Williamson Elephant Tea Caddies
I will happily confess that it's the caddies I can't resist. I can't vouch for the tea, even though I own a couple of elephants, as I've still not actually tried it. But come on… elephant tea caddies! Available directly from Williamson or also stocked by John Lewis.
Teanamu Lychee Black
I can recommend many tea providers (including Lahloo, Rare Tea Company and Jing) but for a tea that I think suits Christmas particularly well, you can't do better than Teanamu's delicious lychee black. Whole leaf Congou black tea is scented with the fresh peel of ripe lychees and absorbs both the flavour and fragrance of the exotic fruit.
Check out the rest of the store for some beautiful clay tea pots.
Chocolates
I love chocolate and couldn't possibly narrow it down to one. Buy the tastiest treats from Artisan du Chocolat, Booja Booja, Chococo, Damian Allsop, Marc Demarquette, Gorvett & Stone, Matcha Chocolat, Melt, Paul A Young, Paul Wayne Gregory, Prestat, Rococo and William Curley.
Hot Water Bottles
I love hot water bottles. Much to Pete's despair, I use them not just in the coldest depths of winter but for half of autumn and spring as well! This site has showcases all the best hot water bottles and helped me track down these Blue Monster, Hello Kitty, Vagabond Owl, Penguin, Tea & Sympathy and Grumpy Chocolate great designs.
So, did I give you any ideas?! Do let me know if you buy (or receive) any of the gifts above!