This post contains affiliate links to booking.com.
On a snowy day at the end of December, we took off from London for a three week trip to Thailand, a holiday that had been many months in the planning. I developed our 3 week Thailand itinerary through lots of research, weighing up many options, creating shortlists, narrowing down the choices, and finally making reservations for accommodation, transport and a few activities. It took a lot of time to pull together but it was so worth it! We had an absolutely fantastic trip and the itinerary worked out beautifully. Ahead of sharing it here, I've made some tiny tweaks to make it even better, based on our experiences.
One reason it took me so long to nail down our plans was that most suggested itineraries include at least a week of beach time – understandable since most travellers enjoy beach resorts, and Thailand has miles of stunning coastline.
But what if you're not into beaches? Pete and I aren't beach lovers at all and we knew we wanted Thailand without the beaches! So I created a 21 night Thailand itinerary focused on the best of Thailand's food, culture, history and a mix of cities and nature.
The 3 week Thailand itinerary below is perfect for anyone who shares those interests.
For each stop on my recommended itinerary, I've given you a summary of the destination, the key attractions and reasons to visit, and our personal highlights.
At the end, you'll find some tips on international and internal travel, guidance on costs for food and hotels, and prices for the specialist tours and activities we booked. I've also shared some ideas about elements you can adjust to achieve the best Thailand itinerary for you.
3 Week Thailand Itinerary
This three week Thailand travel plan is for those seeking an immersion into Thai food, culture, history, cities and nature.
Click on the links in the itinerary below to jump straight to a destination:
Day 1 International flight lands in Bangkok (3 nights)
Day 2-3 Sightseeing Bangkok
Day 4 Early morning flight from Bangkok to Phuket or Surat Thani airport for transfer to Elephant Hills Khao Sok National Park (2 nights)
Day 5 Khao Sok National Park
Day 6 Afternoon transfer to Phuket or Surat Thani airport for evening flight to Chiang Mai (5 nights)
Day 7-10 Sightseeing in Chiang Mai
Day 11 Morning pick up for tour of hill tribe village and landcapes (1 night)
Day 12 Continuation of tour, dropping off at the end of the day in Chiang Rai (3 nights)
Day 13-14 Sightseeing Chiang Rai
Day 15 Early morning flight to Bangkok, collect rental car and drive to Khao Yai (2 nights)
Day 16 All day excursion within Khao Yai National Park
Day 17 Drive to Ayutthaya (2 Nights)
Day 18 Sightseeing Ayutthaya
Day 19 Sightseeing Ayutthaya, then return car to Bangkok airport late afternoon, public transport into city (2 nights)
Day 20 Sightseeing / shopping Bangkok
Day 21 International flight out of Thailand
Bangkok (3 nights)
Bangkok is one of the largest cities in South East Asia, and, unless you have a serious aversion to crowds, it's well-worth giving a few days to the sights of Bangkok. We split our Bangkok time between the beginning and end of our trip, allowing a couple of days on arrival to acclimatise to the heat, recover from the long flight and sightsee and time at the end to relax, do further sightseeing and shopping.
I've heard that it's changed enormously in the last few decades, but there are still facets of traditional Thailand to be enjoyed within the city alongside the modern era high rise hotels, offices and residential blocks, shiny shopping malls and traffic-congested roads.
Favourite sights and experiences for us in Bangkok included visiting some of the famous Bangkok floating markets, touring the city's extensive China Town, taking a boat ride up the Chao Phraya River and along some of the klongs (canals) of Thonburi, and visiting some of the many beautiful temples.
There are also many great places to visit near Bangkok.
Our Bangkok Hotel
The Adelphi Suites Bangkok is located in bustling Sukhumvit, just a minute's walk from Nana BST station, making it easy to travel around the city, and well-situated for plenty of food and shopping options. We loved the extra space this all-suites hotel provided for a very reasonable price. Our stay included a decent breakfast buffet in their onsite restaurant and bar, and we appreciated having a comfortable lounge, kitchenette and laundry facilities within our personal apartment. We paid 5,760 baht per night.
Other Bangkok Hotels We Shortlisted
COMO Metropolitan Bangkok is just to the East of Silom district, not far from Lumphini Metro station. It's also home to David Thompson's Nahm restaurant.
Baan K Managed by Bliston is close to the COMO Metropolitan. It offers spacious and attractive suites at budget-busting prices.
AVANI Riverside Bangkok Hotel overlooks the Chao Phraya River, on the West bank, and has rooms and a pool with stunning views over the river and city beyond, but note that it doesn't have any Metro or BTS stations nearby.
More on best areas and hotels in Bangkok.
Bangkok Eating Recommendations
There are night markets all around Bangkok, not just the big name ones, but small ones all over the place. Choose a stall that's doing brisk business, where everything is cooked hot and fresh to order, and you can't go wrong.
Terminal 21, a large modern shopping mall next to Asok BTS Station and a minute from Sukhumvit Metro station, has two floors dedicated to dining. To order at any of the food court stalls, first purchase a card from a cashier, load it with a couple of hundred baht and hand it over each time you make an order. The sales person will deduct the price and return it to you. Anything unspent can be saved for your next visit, or cashed in before leaving.
Issaya Restaurant was recently recognised as one of Asia's top restaurants, and is certainly considered one of Thailand's best. It's head chef, Pongtawat 'Ian' Chalermkittichai is a respected celebrity chef and he has created a menu of classic dishes with a modern interpretation, beautiful presentation and the occasional unexpected twist. Every dish we ate was a delight, perfectly cooked, full of intense flavours, delicious. This restaurant is certainly expensive, but was a food highlight of our visit.
Hai Som Tam located on Soi Convent in Silom is an Isaan (northeastern Thai) restaurant specialising, as the name conveys, in the hugely popular som tam aka green papaya salad. It's a casual place, almost canteen-like, and prices are not much higher than street food from the many stalls nearby. There's an English-language menu (nothing is off the tourist trail here!) so it's easy to order. The som tam is fantastically delicious and fiercely fiery, even thought it was ordered "less spicy", as is a larb moo (minced pork). Balance the heat with sticky rice and some excellent deep fried chicken wings.
Find out more about Vegan dining in Bangkok.
Khao Sok National Park (2 Nights)
Visiting Thailand, you quickly come to learn how much Thai people appreciate nature, and indeed the country has 127 national parks preserving vast swathes of habitat – and the creatures that inhabit them. With 22 of these categorised as marine environments, both sea and land environments are protected.
Khao Sok is the most popular of the country's mainland national parks, in part because it's so readily accessible. As well as lush jungle and iconic limestone mountains, it also encompasses a number of rivers and a vast man-made lake created by the Ratchaprapha dam.
We had two reasons for choosing this park. The first was to visit an elephant sanctuary run by Elephant Hills, staying the night in their rainforest camp nearby.
Elephants have long been used for heavy labour across Asia, but their use in the logging industry was banned in Thailand in 1989. After that, many owners turned to the tourism industry as a way to support themselves and their elephants – expensive beasts to keep given the amount of feed they need to consume every day. Unfortunately, the success of elephant tourism has resulted in more elephants being taken from the wild, or bred in captivity, to fulfill a growing demand (and the realisation that it's a big earner). The problem is that the only way to train elephants to accept riders on their backs, to perform in shows, do tricks, "paint" or otherwise entertain, they must be broken as babies, a horrific process known as the crush. In addition, unlike horses and other large animals, the backs of elephants are not the right shape for carrying weight upon them, and are severely damaged by the heavy riding platforms and passengers they carry.
Since elephants previously trained for labour cannot survive in the wild, Elephant Hills have created a sanctuary where these animals can retire with their mahouts, to a life of leisure. To fund this, visitors are able to visit the elephants, feed them fresh fruit (which they eat in enormous amounts), and help to wash them. The sanctuary allows no breeding, riding or forcing the elephants to participate in the tourist visits and has won awards from the Tourism Authority of Thailand, as well as a range of international tourism bodies.
The second reason was to stay overnight at a floating lake camp on Cheow Lan Lake. There are organised activities available here including a 3 hour rainforest trek and a guided kayak excursion, but we decided to spend the time swimming and kayaking in the area in front of the camp instead, relaxing and enjoying the cooling water and beautiful views.
Check out my dedicated posts about ethical elephant tourism at the elephant sanctuary and staying at the floating Rainforest camp.
Our Khao Sok Accommodation
Elephant Hills offers an inclusive package that covers pick-up from several airports, towns and resorts within a few hours drive from them, a stay in their jungle-based elephant camp and the floating lake rainforest camp, activities including visiting the elephant sanctuary, river canoeing, trekking in the jungle and kayaking on the lake, and all meals during the stay. It also includes the transfer back to your designated airport or resort afterwards.
Because of limited availability and the need to switch around the order of our itinerary, we had to fly down the day before pick-up and stay a night near Phuket airport, to be collected from our hotel in the morning. However, if you co-ordinate with the Reservations team, they will let you know specific flights from Bangkok into Phuket or Surat Thani airports which they will meet on landing, so you can fly in the same morning your package begins. The Jungle Lake package costs from 20,372 baht per adult based on two sharing.
Chiang Mai (5 Nights)
Chiang Mai is the largest city in northern Thailand, and is very firmly on the tourist trail. Relatively difficult to reach until the last century, it has retained much of its historic architecture and charm. There's plenty to do in Chiang Mai, from visiting the city's many distinctive temples to browsing its famous daytime and night markets and attending a Thai cookery class.
Geographically the foothills of the Himalayas, Chiang Mai is also a hop-off area for visits to nearby Doi Inthanon National Park, and the rest of the region, with excursions to visit nearby hill tribes also popular.
Read my post sharing eight great reasons to visit Chiang Mai!
Our Chiang Mai Hotel
Rich Lanna House has a great location on the Northern edge of the old city, close to Chang Puak Gate. It's a short walk to the Sunday Walking Street (night market), but we preferred the smaller North Market just by Chang Phueak Gate. The hotel is in a newly built Thai house and the spacious rooms are beautifully bright and modern. They are furnished with Lanna-inspired fittings and very comfortable beds. The pricing is really great value for the space, comfort and quality of the rooms. The hotel also has a small pool, and an onsite coffee shop. We paid 2,691 baht per night.
Other Chiang Mai Hotels We Shortlisted
Chiang Mai Eating Recommendations
Chiang Mai has so many great street food offerings that we didn't eat any of our evening meals in restaurants, instead visiting our nearest night market (North Market by Chang Puak Gate) on two evenings, the Chiang Mai Night Bazaar one night and the Saturday Walking Market another night.
Rural Hill Tribe Village (1 Night)
Visiting an Akha Hill Tribe to learn about their history, culture and cuisine was something I really wanted to do on this trip.
After a lot of online research, I got in touch with Local Alike, who work with small villages across Thailand. Local Alike help villages to initiate and develop tourism within their communities, assist with marketing, and also serve as an agency to bring tourists to those villages. I mentioned that I was keen to learn about a hill tribe's history and culture, observe small scale agriculture and production of coffee, enjoy and perhaps learn how to make some traditional foods and crafts. As I have some mobility issues, I also needed the community to be readily accessible by road.
Local Alike organised a comprehensive 2 day / 1 night tour, with pick up from Chiang Rai and drop off in Chiang Mai – I'm recommending you swap the itinerary around to visit Chiang Mai first. We had a Local Alike guide with us throughout, and the community assigned two local hosts who were with us throughout our visit to the village, (translated by our Local Alike guide) and introduced us to Akha culture, traditions, food and history.
We experienced a traditional welcome ceremony, visited coffee and orange plantations, learned how coffee is processed from freshly plucked to roasted bean, learned about local handicrafts, did two cookery lessons for local dishes, enjoyed traditional Akha dishes for lunch and dinner, and spent the night in a beautiful home-stay high in the mountains, with the most stunning views of the landscape.
Find out more about our ethical visit to a Thai hill tribe.
Our Akha Homestay
Local Alike organised our overnight homestay as part of the tour. The rooms were small and basic, with extremely hard Thai-style mattresses, but they were en-suite, the welcome was warm, dinner was a traditional Akha meal (with locals kindly giving us a demonstration of a traditional dance) and the views were truly spectacular, both at sunset and through sunrise into the day. We paid 32,130 baht for our private tour including transportation, guiding services, activities, meals and accommodation.
Chiang Rai (3 Nights)
Chiang Rai is the northernmost city on Thailand's tourist trail, located in a green and mountainous province of the same name. It's much smaller and quieter than Chiang Mai, and many tourists choose to visit as part of a day trip from their Chiang Mai base.
However, we loved the two nights we spent here, and could happily have spent a third, which would have allowed us to make an excursion to the Golden Triangle (where the borders of Thailand meet those of Laos and Myanmar), visit the tea and coffee plantations in the area or take in one or more of the museums dedicated to the history and culture of local hill tribes.
We booked a one day guided tour to visit the key sites we wanted to see – the White Temple (Wat Rong Khun), the Black House (Baan Dam), the Blue Temple (Wat Rong Suea Ten) and Wat Huai Pla Kung (a modern Chinese Temple featuring a truly huge goddess statue that towers over the countryside).
We spent both our evenings browsing and eating at the city's night market – perhaps our favourite night market of the trip.
Find out more about the key sights of Chiang Rai in one day, in my full post. 
Our Chiang Rai Hotel
Le Patta Hotel is a modern, comfortable hotel with a great location just a couple of minute's walk from Chiang Rai's Clocktower, and less than five minute's walk to the Night Market. The rooms are spacious and comfortable and the hotel has a pretty pool area and an onsite restaurant, where breakfast is served. We paid 3,150 baht per night.
Other Chiang Rai Hotels We Shortlisted
Le Meridien Chiang Rai Resort is at the high end of the price and luxury scale (it was well over twice as much as Le Patta for the dates of our stay) but we were very tempted by the beautiful rooms, exemplary service and riverfront setting. In the end, price point and being centrally located won out, and we were very happy with our choice.
Chiang Rai Eating Recommendations
Chiang Rai's Night Market was our favourite of the whole trip (though we really enjoyed all of them!) A purpose built market area comprises a large open air space in which a huge number of tables and chairs are set up, a stage at one end (where live performances may be scheduled), and food stalls up both sides. On arrival, stake out a table first – especially if they're nearly all taken when you arrive – and then take turns to browse the stalls, order your food and bring it back to the table to eat.
Khao Yai National Park (2 Nights)
As Thailand's first National Park, established in 1962, Khao Yai covers over 2,000 square kilometres of rain forest, evergreen forest and grassland habitat, with altitudes rising to 1000 metres above sea level.
Commonly-sighted mammals include wild elephants, barking deer, gibbons and macaques; some visitors also see bears, gaurs and otters. Our sightings of white-handed gibbons gambolling through the trees were wonderful, and we got much closer than we expected. There are also many resident and migratory birds in the park, but during our January visit bird life was hard to spot however we did have sightings of three great hornbills, huge and impressive birds.
A key reason for us going to Khao Yai was a visit to some caves a short distance outside of the National Park, where a very large population of fruit bats reside. Visitors who time their visit right can watch these emerge from the caves around sunset in their thousands upon thousands – it's an amazing wildlife spectacle and for us it was worth it to visit Khao Yai for the bats alone, let alone everything else we enjoyed.
Although you can self-drive the park, visitors without a certified guide may not walk many of the wildlife trails, and of course, a good guide is recommended to help you locate the coveted wildlife sightings. We were extremely happy with our guide Ghaan from Khao Yai Trekking, who provided our tour of the national park and our visit to the bat caves.
Another advantage of self-driving is the ease of exploring other sites in the area including one or more of the wineries that have sprung up in the area in recent years, the silk farm where the famous Jim Thompson brand's silk is made, and various agro-tourism sites such as a mushroom farm, dairy farms and various fruit and vegetable farms.
Our Khao Yai Hotel
Nhapa Khaoyai Resort is an architectural gem but as it's located in a remote rural spot, it's most suitable if you have a rental car (as we did), in which case it's easy to find using Google Maps. The hotel is built in a disused stone quarry and each room is a stand-alone cube with floor-to-ceiling glass walls on at least two sides. Our cube was built right into the rock face, so that the rock itself formed the fourth wall – just beautiful! Another highlight is the modern and traditional art and pottery in the grounds, rooms and public spaces. There are two pretty pools, and the hotel offers full board dining. Let them know in advance of any food restrictions as it's a no-choice menu each night. We paid 8,000 baht per night (full board).
Other Khao Yai Hotels We Shortlisted
Lala Mukha Tented Resort, as the name suggests, is a resort in which most of the rooms are tents. Like luxury safari camps common across Africa, the tents include comfortable beds and an ensuite bathroom.
U Khao Yai is one of many local resorts offering a classical European aesthetic.
The Private Pool Villas at Civilai Hill look utterly stunning, and perfect if you have the money for a huge splurge.
Khao Yai Eating Recommendations
As we ate in our hotel both nights, we don't have any specific recommendations for the Khao Yai area. Many of the resorts in the Khao Yai area offer onsite dining, as most are not very close to local restaurants. However if you'd like to eat out, several of the local wineries have restaurants (as well as wine tasting tours) that may fit the bill.
Ayutthaya (2 Nights)
Ayutthaya is best known for the multitude of temple ruins scattered all around the old town area.
Founded in 1350 to be the capital of the Siamese Kingdom, Ayutthaya flourished for more than four centuries, growing into one of the largest cities of the period. In 1767 the city was brutally sacked by the Burmese who burned Ayutthaya to the ground. Following this, the Thai capital moved to Thonburi (in present-day Bangkok), and remained there even when Ayutthaya was retaken from the Burmese and the regions of Thailand were unified.
Extensive ruins of many palaces and temples were left abandoned, and while some were eroded by recycling of bricks and land, many were virtually untouched until the modern era. Many of these are now collectively protected as a UNESCO World Heritage Site.
Many visitors to Ayutthaya come on a day trip from Bangkok, without spending a night here, and certainly you could see some of the key ruins in the few hours this gives you. However, staying overnight allows you to visit not only three or four of the best known sites, but several others, many of which are far less crowded and often just as stunning as the big name sites.
Having a car was perfect for us; we found it easy to park near each of the sites (many of which had free-to-use dedicated car parks) and could save our limited energy (in the relentless heat) to walk the sites themselves. Some visitors also enjoy renting bicycles to travel from site to site.
I've suggested two nights rather than the one we had because we wished we'd had even longer here, to see more of the town and to relax. As well as the beautiful temples, we discovered a thriving food market and a bustling amulet market, both of which were very enjoyable to visit. Our out-of-town hotel was also the perfect place to while away half a day enjoying the pool, gardens and lake.
Read more detail about our top three Ayutthaya temple ruins and the wonderful local markets we enjoyed.
Our Ayutthaya Hotel
Baan Thai House was one of the best value accommodations of our trip, at just £65 (GBP) a night for a deluxe villa; indeed Ayutthaya accommodation seems to be great value across the board, perhaps because so many visitors are day-trippers. Inside our standalone villa – one of several set in beautiful gardens around a small lake – we had a huge bedroom with very comfortable bed, a private balcony looking out onto the lake and small but functional shower room and toilet. The resort also had an inviting pool. Breakfast, served in the bar and restaurant building, is made to order. Lunch and dinner are also available. As we were self-driving, the location (in a very quiet residential area off the main island of Ayutthaya but only a few minutes drive from it) was perfect for us, but might be too out-of-the-way for guests without their own transport. We paid 2,800 baht per night.
Other Ayutthaya Hotels We Shortlisted
Phuttal Residence sits on the river bank at the north east corner of Ayutthaya island. The property looks bright and filled with natural light, but room sizes seem to vary quite a bit within the same category.
Baan Tye Wang Guesthouse is an inexpensive boutique hotel in a quiet location on Ayutthaya island, within walking distance of several of the key tourist sites. Rooms offer an open-air shower, outdoor seating area and views over a small canal.
Baan Luang Harn offers accommodation in charming individual bungalows, and is centrally located on the island near to several key tourist sites.
Ayutthaya Eating Recommendations
As we had a car, we headed into town and parked up near the Bang Lan Night Market for dinner. Set up pretty quickly during the early evening, most of the market is dedicated to food, with some clothing, make up, shoes and electronics stalls too. Some of the food vendors have dedicated tables and chairs, for others you'll have to eat on the hoof.
Bangkok (2 Nights)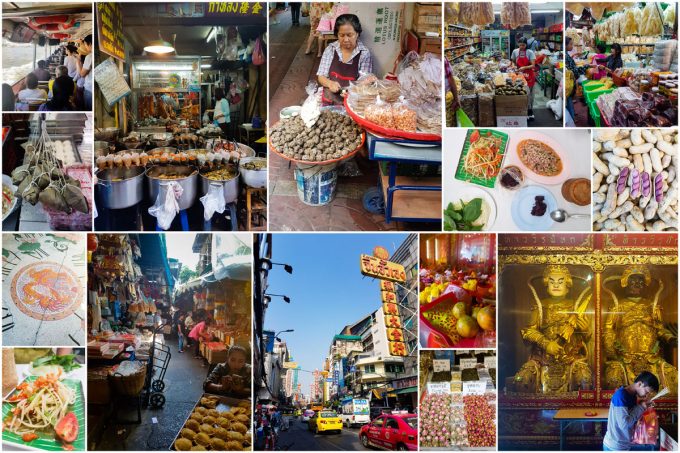 We appreciated splitting our time in Bangkok between start and finish. At the start, we focused on sightseeing, whereas towards the end, while we did do some more of that too, it was also an ideal time to do a little souvenir shopping now we'd no longer need to lug purchases around the country with us.
Bangkok Airport Hotels
Dharasom's Colonial House is a great choice if you need to spend a night near Bangkok's Suvarnabhumi Airport, and are looking for a spacious, comfortable and keenly-priced room with transfers to and from the airport included in the price. There's a 7-Eleven at the top of the road and a night market about 5-10 minutes walk away. We paid 1,740 baht per night.
Practical Information
How To Get There – International Flights
With readers around the world, it's almost impossible to share any useful advice on booking international flights. For our trip flying from London Heathrow, we prioritised direct flights that arrived into Bangkok mid-afternoon so that we could transfer to our hotel, settle in and grab a quick dinner before going to sleep. We picked a departure a little after noon so that our morning start wasn't horribly early, and it arrived back to London early evening.
Taxis at Bangkok Suvarnabhumi Airport
You may have come across warnings about picking up a taxi at Bangkok Suvarnabhumi Airport, but provided you follow these instructions, it's pretty straightforward and easy to avoid being scammed.
Don't accept any offers from taxi touts within the airport terminal
Head to the public taxi dispatcher area on Level 1
There are three queues for regular cabs, large taxis and for very short distance rides. For two people with a medium case each, a regular taxi is fine. If you are a larger group or have a lot of / larger luggage, you may need a large taxi. The queues may look scarily long, but they move pretty quickly, though the large car service not quite as fast.
At the front of the queue, use the automated machine to request a taxi, and take the ticket. This will show the number of a taxi bay; make your way to the relevant bay (shown clearly on overhead signs) and get in your taxi.
Regular taxi boots (trunks) are small, and will often fit only one case. A second case is usually loaded to the front passenger seat.
As you move off, make sure your taxi driver has switched on the meter. If they haven't, ask them (politely) to do so.
Either during the ride or at the end, your driver will ask you to pay an extra fee of 70 baht to cover the toll road charge for using the expressway into the city. This is on top of the metered fare, as is a 50 baht surcharge for all airport pick ups. (Touts may offer to waive the surcharge, even though it's against the rules for them to do so, but chances are you'll end up paying more for your ride anyway, if they don't use the meter).
Airport Rail Link
A cheaper way to get into the city is to use the Airport Rail Link, which stops at stations that allow you to transfer onto the BTS (Bangkok Sky Train) or Metro. If your hotel is close by to a BTS or Metro station, and you don't have too much luggage to carry easily, this is a good option.
Travel Within Thailand (Flights, Transfers & Rental Cars)
Travelling between Bangkok, Chiang Mai, Chiang Rai and Khao Sok by domestic flight is very straightforward and there are multiple budget airlines offering some great deals. For Khao Sok, you can fly into Phuket or Surat Thani airports; discuss with Elephant Hills before booking as they will only pick up from their nominated flight into each airport.
Between Chiang Mai and Chiang Rai, many travellers use a bus service which takes 3-4 hours. Another option is to rent a car, especially useful if you want to explore further around the region. For our itinerary, we booked a private tour to visit an Akha hill tribe community, and incorporated the transfer within that service.
For the Bangkok-Khao Yai-Ayutthaya-Bangkok loop, we rented a car from Bangkok Suvarnabhumi Airport. We had been really nervous about driving in Thailand, but it was actually very straightforward, and a real pleasure. We had no scary moments, no difficulty in finding our way (courtesy of Google Maps navigation on our mobile phones, using a local SIM with data package) and loved the freedom a car gave us to explore at our own pace.
Costs
Thailand Food Costs
We fell fast and hard for Thailand's street food and enjoyed eating at night markets throughout our trip. Eating this way is very inexpensive, delicious and lots of fun. It's also great on the budget as we rarely spent more than 200-300 baht between us on dinner for two.
Casual roadside restaurants were not that much more than the street food vendors; those inside air-conditioned shopping malls were a fair bit more – anywhere from 500-1000 baht per person, more in the grander malls.
Eating out at high end restaurants in Bangkok was at top end of the price scale; our final night dinner at Issaya was 11,581 baht between four. We loved it and felt it was worth the cost, but you'll find plenty of lower budget restaurants, such as the Som Tam specialist I recommended.
Thailand Hotel Costs
We are not budget travellers; we like comfort, space and an attractive setting. For cities, location is key, and I prioritise being near the sights or handy for public transport. While we love five star luxury from time to time, we rarely book luxury properties on this kind of holiday since we spend relatively little time within our hotels. Instead I look at mid-range options, seeking out places that seem to give more than others at the same price point.
I've provided costs for hotels against each place we stayed. We travelled in high season (December-January), and booked a few months in advance. Prices for the same properties may be lower at other times of the year, or by booking nearer to time of departure. And of course, you can absolutely reduce hotel costs by picking less expensive hotels, guest houses or hostels.
Thailand Activities and Tours Costs
The Elephant Hills package for Khao Sok National Park costs from 20,372 baht per adult based on two sharing (depending on season).
The Chiang Mai cookery class we took cost 1,200 baht per person for a full day class including transfer from town to farm, tour of a local market and the cooking class itself.
Our Thailand Hill Tribe visit with Local Alike was

32,130

baht and included transportation, guiding services, activities, meals and accommodation.
A one day (private) sightseeing tour in Chiang Rai cost us 6,400 baht. Joining a group tour will be less expensive.
We booked a one day private guided safari in Khao Yai National Park with Khao Yai Trekking through Tontan Travel, customising it to include a visit to the bat caves at dusk. This cost 6,000 baht for the day including transport, guide and driver.
Find Thailand tips on currency, electricity, visas, safety and more or check out these more esoteric interesting facts about Thailand.
Changing the Itinerary
Only have two weeks?
First of all, drop 1-2 nights from the 5 we've given to Bangkok. I would still start with 3 nights at the beginning of your trip, but drop to 1 night at the end – or depending on the timing of your departing flight you could even go straight from Ayutthaya to the airport.
We have two national parks in the itinerary, so drop one of these to save 2 nights. If you have the budget, the Elephant Hills experience at Khao Sok National Park is the more spectacular. But if you want to cut costs (both of the flights to and from Khao Sok as well as the package itself), or if you like the idea of self-driving, Khao Yai National Park may work better for you.
The 9 nights in northern Thailand can be cut to 6 or 7. Either use Chiang Mai as your base and visit Chiang Rai and a hill tribe community via day trips from Chiang Mai, or divide the time into 4 nights in Chiang Mai, and 2 nights in Chiang rai.

Want to include some beach time?

Use the suggestions above to cut my three week itinerary down by 4-7 days and give that time to one of Thailand's many stunning beach resorts. If you are keen to visit Elephant Hills, resorts around Phuket and Krabi are eligible for a direct transfer to the national park. Alternatively, you may like Ko Samui, Koh Lanta or Ko Phi Phi. Hua Hin is popular for those seeking a beach resort nearer to Bangkok. More great Thailand places to visit here.

Best Souvenirs from Thailand

If you're a traveller who loves to pick up a souvenir (or two, or three!) to remind you of the trip, you'll love shopping in Thailand – there's such a great range of lovely items to buy and bring home.

Read our comprehensive guide to the best souvenirs to buy in Thailand.

Save for later

 

This post contains affiliate links to booking.com. Making your bookings via my links will earn me a commission but cost you no extra in your purchase. I have used booking.com to make most of our personal hotel bookings for several years, so I'm a loyal and happy customer.