Amsterdam is one of Europe's most magical travel destinations, offering a city-break escape that has something for every type of traveller. Spending three days in Amsterdam is just enough time to see many of the city's top sights and attractions, and explore further afield. Whether you are looking for history, culture, partying, or anything else, Amsterdam has something for you!
The city is known for a couple of controversial topics; as a city with permissive marijuana laws and legal prostitution, it has developed a certain reputation. However, the image of Amsterdam as a centre for partying and drugs could not be more wrong! The city of Amsterdam is home to a long and intricate history and offers unique culture and much beauty. Of course, there are tourists who come to the city to party, but there is so much more to be discovered, beyond this small facet of Amsterdam.
3 Day Amsterdam Itinerary
If you are planning a visiting to Amsterdam, and have 3 days to spend in and around the city, this guide is for you! Keep reading to read our suggestions for seeing Amsterdam in 3 days.
Day 1 in Amsterdam
Visit a Museum
One of the best things to do in Amsterdam is visit one of the many amazing museums. The city of Amsterdam is packed with museums of all kinds just waiting to be explored. From art to history to science and beyond there is a museum for all. With so many museums and only 3 days in Amsterdam it can be difficult to pick which one is the best to spend your time at. However, if you are a museum lover you can always rearrange your schedule on the other 2 days to find more time to fit another in.
Of all the museums in Amsterdam there are a few that stand out. If you are overwhelmed with all the choices make a pick from these top 3 best museums in Amsterdam.
One of the most famous museums is the Anne Frank House. This is a museum that tells the story of a young girl named Anne Frank who was in hiding in a house in Amsterdam during WW2. The museum brings you through the attic she hid in and tells the story of her life and tragic death.
Another amazing museum is the Rijksmuseum. This is the largest museum in Amsterdam with artifacts dating back to the middle ages. You can easily spend 3-4 hours roaming the multitude of floors and exhibits.
The final top choice is the Van Gogh Museum. This museum is dedicated to all pieces by world famous artist Vincent Van Gogh and walks you through some of his best works of art.
Go to the
Bloemenmarkt

(Flower Market)

The Bloemenmarkt (Flower Market) is one of Amsterdam's most famous attractions. It is the world's only floating flower market, where individual stores are in boats moored to the bankside, selling everything you could want that is tulip and flower related.

One of the Netherlands most iconic symbols is tulips! In Spring, vast fields in the countryside become full of vibrant and colourful tulips as far as the eye can see! As a result, flowers and, especially, tulips have become a Dutch staple. A tulip is one of the best souvenirs from Amsterdam. When exploring the Bloemarket you will have your pick of tulip bulbs (and the bulbs and seeds of many other flowers and plants) to bring home for yourself or to give to a family member or friend. One of the most popular souvenirs to pick up here is tulip bulbs sold in a can.
Shop in the 9 Streets
The "9 Streets" (de 9 Straatjes) neighbourhood is one of the most popular places to go shopping in Amsterdam. This collection of 9 streets in the Jordaan neighbourhood of the city is packed with vintage shops, trendy boutiques, and popular restaurants. It's the perfect place to stroll around and browse for new clothing, jewellery, home décor, skin care or anything else! Not only are there a ton of cool shops to explore, but the streets are gorgeous!
Cruise the Canals
One of the best ways to see Amsterdam is by taking a boat trip through the canals. This is why canal cruises are so popular! All day, every day, a range of canal cruise companies offer one-hour to two-hour rides through the canals of the city to show you some of the most famous and iconic spots in Amsterdam. The rides are relaxing and informative and a great way to spend some time getting to know the city. If you are feeling rushed and have limited time in Amsterdam, taking a canal cruise is a great way to experience a fast-tracked view of the city.
Visit the Red Light District
Now the Red Light District isn't for everyone but it is still one of Amsterdam's most popular tourist attractions. There is quite a bit to do in Amsterdam at night with going to clubs, walking the streets after hours and more, but nothing is quite as unique as visiting the Red Light District. The Red Light District is an area is Amsterdam where prostitution is legal and women stand in windows lit up by red lights. People can pay to go inside, but most people in this area are tourists walking around and witnessing this shocking and unique area for the first time.
Day 2 in Amsterdam
Rent a Bike
The best way, and most Dutch way, to get around Amsterdam is with a bike. There are more bikes than people in Amsterdam because it is the easiest, quickest, and most fun way to get around the city. Amsterdam is made for bikes there are bike paths everywhere and bike parking on every street. If you want to see as much of Amsterdam as possible in the quickest amount of time, then renting a bike and exploring for yourself is the best way to do it. You will find bike rental shops all over the city where you can rent a bike for around 8 euros for the entire day.
Go to a Park
Amsterdam is a city with parks galore. In almost every area of Amsterdam you can find a park with plenty of greenspace, walking paths, and dogs playing in the grass. On a warm, sunny day in Amsterdam you will find most of the parks packed with both locals and tourists relaxing on the grass and enjoying the nice weather.
The most popular parks in Amsterdam are Vondelpark, Westerpark, and Oosterpark. On a nice day it is best to go to a grocery store before heading to a park, picking up some food and drinks and sitting on the grass with all the other people. It is beyond relaxing and makes you feel like a local!
Stroll around a Street Market
Street markets are a great place to find local foods and items. One of the best ways to immerse yourself into any local's life in a city is by exploring the street markets and luckily in Amsterdam there are plenty to choose from. The most popular street market is Albert Cupy Market, but some other great ones are Westerstraat and Waterlooplein.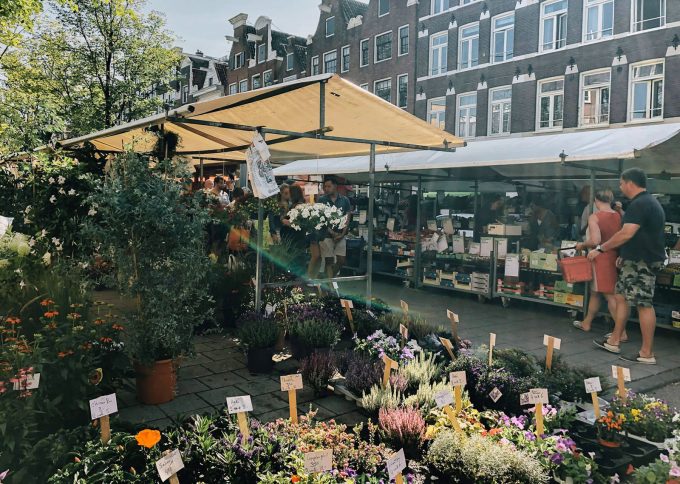 Explore the Jordaan Canals
When visiting Amsterdam one of the most amazing things to do is simply wandering the stunning canals in the city. Amsterdam is undeniably one of the most beautiful places on earth and spending a few hours walking around and discovering all the hidden canals and side streets is beyond dreamy. The best place to do this is in the Jordaan neighbourhood of the city. This is where you can find the most beautiful canals in Amsterdam.
Eat and Drink at a Cafe, Restaurant or Bar
Amsterdam is a foodie's heaven! Discovering new restaurants and tasting new dishes and flavours is something every visitor should do. There are a ton of cafes and restaurants in the city that serve an abundance of different cuisines from places all around the world, as well as plenty of Dutch Food Specialities. You can seek out coffee, cake and snacks in Amsterdam's many cafes, head to Amsterdam's bars and breweries for a drink, or settle down for a full meal in a restaurant. Another appealing aspect of eating out in the city is Amsterdam's amazing vegan scene, which makes eating accessible and easy for all.
Day 3 in Amsterdam
Take a Day Trip
After two days of exploring Amsterdam you will have most likely seen all of the most popular sights and attractions. Most people's biggest mistake when visiting Amsterdam is not taking a quick day trip to one of the other amazing cities nearby! There are so many amazing small towns and villages near Amsterdam that offer so much beauty and excitement. With 3 days in Amsterdam you have enough time to make a quick getaway to experience a little more of the Netherlands!
Some of the best day trips from Amsterdam are Muiderslot Castle, Haarlem, Utrecht, Zaanse Schans, Den Haag, and Rotterdam. All of these cities and villages can be reaches by public transport and are at most an hour train ride away.
When to visit Amsterdam
One of the best things about Amsterdam is that the city is beautiful and bustling all year long. No matter when you visit you will be able to enjoy the beautiful streets, quirky houses, and romantic canals. The best time to visit Amsterdam with fewer tourists is during the winter months. Amsterdam in December often sees half the number of tourists as the summer period, but offers the same attractions and beauty. Of course, if you want to visit when the weather is the nicest, and the days are longer, spring, summer and autumn are your best bet.
Guest post and images by Samantha Karen.