I don't often gravitate towards cookery books focusing on a single ingredient as they so often have a core of fabulous recipes padded out with a bunch of weak page fillers.
But Diana Henry's A Bird In The Hand is a wonderful exception, chock – or should that be chook? – full of appealing recipes for simple, tasty chicken dinners.
In the UK we purchase and eat a lot of chicken. It's so good roasted, grilled or barbequed, fried (pan or deep), poached, cooked in a stew or casserole… and well-suited to flavours from all around the world – a wonderfully versatile meat.
In this book Diana Henry shares a collection of over 100 chicken recipes that range from quick and casual to impressive and celebratory. I am tempted by nearly all of them! Some, like Baked Chicken with Tarragon and Dijon Mustard, Chicken Forestière, Thai Chicken Burgers, Soothing North Indian Curry and Japanese Negima Yakitori are similar to recipes we have made and enjoyed before; a good reminder to make them again soon.
Others are dishes we've not thought to try ourselves. My copy of the book is frilled along the top edge with little scraps of paper bookmarking those I want to try soon – Spanish Chicken, Morcilla and Sherry, Vietnamese Lemongrass and Chilli Chicken, Bourbon and Marmalade-glazed Drumsticks, Chicken with Shaoxing Wine, Crisp Radishes and Pickled Ginger, Tagine of Chicken, Caramelised Onion and Pears, Chicken Legs in Pinot Noir with Sour Cherries and Parsnip Purée, Roast chicken stuffed with black pudding and apple and mustard sauce, Ginger beer can chicken, Chicken Pot-Roasted in Milk, Bay and Nutmeg, Pot-Roast Chicken with Figs.
They all sound so good, don't they?
Both dishes we have made so far have been enormously comforting, delicious and likely to be repeated again and again. Though there are only two of us, we felt the Crusted Chicken and Chorizo Paella was best made in a large quantity; we scaled it down to make two thirds and that served us both for two meals, plus a generous portion for my lunchbox one day too. Warm, comforting, tasty and not complicated to make.
The Chicken with Pumpkin, Cream and Gruyère actually blew me away. As you can see, it's such a simple recipe and yet I would never have thought to combine chicken and pumpkin, nor to cook the combination so simply in cream flavoured with garlic and grated cheese. Be warned, this is a rich dish, so small portions will be plenty. A crisp vinaigrette-dressed green salad is my perfect accompaniment.
Again, we scaled the recipe down by half. We used chicken thighs (which I much prefer to breasts) and butternut squash and switched the two hard cheeses for close cousins we had on hand. We also decided to cut the thighs into three pieces before frying, rather than after as in the recipe.
Full, original recipe provided below.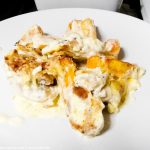 Diana Henry's Chicken with Pumpkin, Cream and Gruyère
Ingredients
1

kg

pumpkin or butternut squash

(unprepared weight)

3

tbsp

olive oil

8

skinless boneless chicken thighs or breasts

400

ml

double cream

1

clove

garlic

25

g

grated Gruyère

25

g

grated Parmesan

salt

pepper
Instructions
Preheat the oven to 200 C / 400 F.

Peel and deseed the pumpkin and cut it into wedges. Put the wedges into a roasting tin, brush with olive oil, season and roast in the oven for about 30 minutes, or until completely tender (and even slightly caramelised).


Now put the squash into a gratin or other ovenproof dish, one that is big enough to accommodate the chicken too.


Meanwhile, cook the chicken. Simply season it all over, heat one and a half tablespoons of olive oil in a frying pan and sauté the chicken on both sides until golden and cooked through, eight to ten minutes.


Heat the cream with the garlic until it's boiling, take off the heat, season and pour over the chicken and pumpkin. Sprinkle on both cheeses and bake for 20 to 25 minutes.


The dish should be bubbling and golden. Serve.


You need something to cut the richness so a salad of bitter leaves is good. Children like it with pasta, but I prefer brown rice or another nutty whole grain.

You may also enjoy:
A Bird in the Hand by Diana Henry is available from Amazon for £9.99 (RRP £20). Published by Mitchell Beazley. Kavey Eats received a review copy from the publisher.