My original plan for January's BSFIC challenge was a date ice cream, swirling date puree through Pedro Ximinez ice cream… I had these fabulous meltingly soft dates that I picked up from my local Turkish shop before Christmas and I knew they'd be perfect in ice cream. But I made an enormous batch of apple, date and ginger chutney earlier in the month (recipe coming soon) and, half way through cooking, decided it needed more dates, so ended up using the entire box. I know I could have bought another box especially for the ice cream, and in fact, I probably will buy some more while they're available because they're so bloody gorgeous. But in my mind, the spirit of this month's BSFIC is about using leftover dried fruits or nuts, and whilst I don't mind if others do that or buy them in especially, I wanted to use fruit or nuts I had in the house.
So Pete reminded me about the bag of French walnuts sitting in the airing cupboard, gathered from the grounds in my friend Ian's Corrèze home, dried in the sun and delivered to me as a very kind gift last year. (Even better was the year we visited and gathered the precious nuts ourselves).
I asked friends for ideas on ice cream  recipes using walnuts and was bombarded with delicious ideas including @TangoRaindrop's Ben & Jerry inspired chunky monkey with frozen banana, double cream, chocolate and chopped walnuts and date and @Josordoni's walnut ice cream. But my instant favourite was @Palate4Hire's suggestion of candied walnuts and coffee. Since I adore coffee and walnut cake, this really made me salivate and had the benefit of sounding very simple to make too. A slug of rum from the drinks cupboard would complete the combination perfectly.
First step, make walnut brittle. Or candied walnuts. Whatever! The difference, as far as I can tell, is that for a brittle the nuts are not only enveloped in hard caramel, they are held together by it in a slab. Candied walnuts are also coated in melted sugar, but are loose from each other. And candied walnuts more often have other flavourings added too, I think.
Rather than following a recipe for walnut brittle, I decided to simply wing it, and to my delight, the results were perfect. I'm relieved that I wrote down the amounts I used so I can make it just the same next time.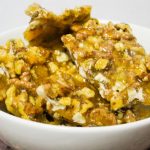 Walnut Brittle
Ingredients
230

g

shelled walnuts

360

g

sugar

1

tsp

salt
Recipe Notes
You can adapt this to the weight of walnuts you have available. Weight your nuts, use double that amount of sugar, and adjust the amount of salt accordingly.
Instructions
Line a baking tray with a silicon baking sheet or a sheet of parchment paper.

Break the walnuts into small pieces, though take care not to crush them as you're not trying to make powdered walnut!


In a large, heavy-based pan dry fry the walnut pieces for a minute or two to give them a slightly toasted flavour. Take care not to burn them. Remove to a bowl and set to one side.


Wipe the pan clean of walnut skin and then spread the sugar and salt evenly over the surface and heat over a medium flame. Don't stir the sugar, just leave it alone to melt. Stirring tends to result in clumps that don't melt evenly, as I remember all too well from previous caramelising efforts!


As soon as the sugar melts and takes on a rich golden brown colour, remove from the heat and stir in the walnuts. Work really quickly as the mixture will cool and harden fast and you need to distribute the walnuts evenly throughout the caramel.


You may like to ask someone to hide the box from you so that you don't eat the lot in one sitting.

Coming next, Coffee Rum & Walnut Brittle Ice Cream!