I love meat! I love the tender meat fibres, the bloody juice, the marbling of fat …
… whether it's a juicy steak with Béarnaise sauce, a huge roast joint with oven-crisped fat, a hearty stew with a generous slosh of red wine or any of a hundred other mouth-watering dishes, I'm all about the meat.
Last year, I started thinking more about where I sourced my meat and the best way to buy top quality British beef, lamb and pork at good prices.
I came across Paganum through Niamh from EatLikeAGirl when she sourced some fabulous pork shoulder for her market stall last year.
And just as I was about to place my order, in a rather fortuitous moment of good timing, Chris Wildman got in touch with me first to ask whether I'd like to try some Paganum products. And I certainly did!
The Yorkshire climate does wonders for cows, sheep and pigs and the resulting meat is really excellent.
Since then, I've placed a number of repeat orders, most notably for Paganum rib eye steaks, which I think are fantastic and very good value indeed.
See below for a discount code if you'd like to follow suit and try some Paganum meat for yourself.
Fast forward to July, the day before Pete and I set off for a week's holiday in the Lake District. Looking at some photographs of meat (as you do) I had a sudden thought and asked Pete how close our route to Windermere would pass by Chris' farm. Not that I even knew where the farm was at that point, other than "Yorkshire". So Pete looked it up.
"Oh noooo", he said, shaking his head gravely, with am exaggerated frown on his face. "The nearest we'll pass to Paganum is a whopping four miles."
Four miles? That's practically by the front door!
I immediately phoned Chris and asked whether it might be possible for us to drop in and meet him in person the next day, as we made our way through North Yorkshire and despite the short notice, and it being the boys' last day at school, he insisted we do.
It's a bloody long way from London to North Yorkshire. By the time we reached Kirkby Malham I was sick of being cooped up in the car, sick of stop-start traffic, sick of being on the move.
So it was an absolute delight to break up the journey with a relaxing farm visit.
We were very warmly welcomed in by Chris and his wife Jennifer and it wasn't long before the kettle was on for tea plus Chris was digging out his home-made elderflower cordial for a refreshing summer thirst-quencher.
Church End Farm is presumably so called because it's located at the church end of the village. As we stood in the kitchen looking out over the pretty church, Chris explained that Jennifer had grown up on this farm (her parents live in the house next door) and that he and Jennifer were married in that very church. (Chris grew up nearby, the son of several generation of Bentham butchers).
What a romantic kitchen sink view – the church in which you were married! That's got to make the washing up less of a chore, right?
Glasses and mugs in hand, Chris lead us outside to meet some of his beautiful sheep. He farms Swaledales (with black faces and curved horns), Blue Faced Leicesters (with strangely hump-shaped faces) and Mules, a cross between the two other species. The ones near the house are those in need of a little extra TLC – orphans or late births or those a little under the weather.
After purchasing some farm fresh eggs from younger son Oliver and having some of Chris' home-made wild mushroom soup, a chorizo sausage and some local cheese pressed upon us, we hopped back into vehicles for a visit to the main farm area.
The views really are stunning. Chris pointed out a far-away hilltop where some of his beef cattle roam and we admired the bucolic Yorkshire Dales countryside.
Older son William is very keen to join Chris working the family farm and is already an authority on the Swaledale and Blue Faced Leicester species. He gave me a quick introduction to the sheep inside one of the huge barns.
We also met the chickens, admired the strange menagerie of animal models, got a tour of Chris' bacon makin' unit and had a snorty chat to Gertrude the (pedigree) pig.
 
Gertrude the pig (ssssh, that's Gertrude's brother Alexander in the previous shots)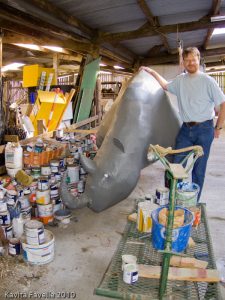 Surreal animal models; Pete & rhino friend
I don't like to share my steak (hands off, all mine).
But I am happy to be able to share a special discount code giving Kavey Eats readers 10% off Paganum orders. Just enter MK+KE into the voucher code field during the check out process.
On top of that is an October 2010 special offer for Kavey Eats readers: Use the MK+KE code above and Chris will send a free Yorkshire Chorizo Original or Piccante (Spicy) with every order over £50.
If you are looking for a specific cut (or maybe some marrow bones, like those I curried, above) just call Chris directly to discuss.
Chris has also posted a few words and some photos from our visit on his blog, here.