I love my cereal but I'm a bit of a kid about it. I like Lucky Charms, Crunchy Nut Cornflakes, Cinnamon Grahams (Curiously Cinnamon is stupid name and I've stopped buying them in protest), Coco Pops Mega Munchers and my own Jordans Country Crisp into which I put at least as much chocolate and fruit and nuts as cereal.
Taste is important to me and, when it comes to cereal, as with so much else, I have a sweet tooth.
(I'd have to be brain dead before I'd voluntarily eat the cardboard that is Bran Flakes – I don't care how good for me they might be! )
But even I am not stupid enough to think it's a good idea for me to eat a bowl full of sugar each and every morning.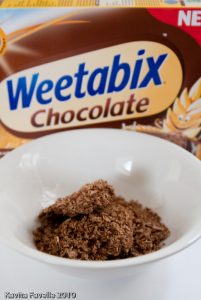 So I was intrigued when I heard about the new Weetabix Chocolate described as "a healthier chocolate cereal". launching this month.
What's it like?
It's exactly like regular Weetabix but with a subtle chocolate taste. It isn't massively sweet – the chocolate just lends a flavour. It's sweeter than it's Plain Jane sibling but not jarringly so and certainly significantly less sweet than the candy concoctions I mention above.
I like it, and I feel I'm having a (comparitively) virtuous breakfast at the same time.
I have two boxes to give away. Leave me a comment about your favourite breakfast – cereal or otherwise – and I'll send one box each to two of you picked from comments left by the deadline – midnight GMT 23 August 2010. Open to UK residents only.