There's nothing wrong with classic crêpes (with sugar and lemon juice, please) or a stack of American-style or Scotch pancakes with maple syrup or chocolate sauce. But if you're looking for something different for Pancake Day (or any other day), check out these twelve unusual  ideas for sweet and savoury pancakes.
The Best Savoury Pancake Recipes
Until I came across the cunning idea of embedding rashers of bacon within a pancake, I'd always ordered my pancakes with bacon on the side. These Bacon Pancakes are far more fun! Recipe from Kavey Eats.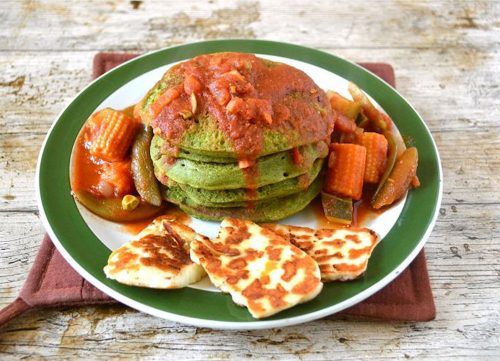 Not just for Kermit, these Kefir Kale Pancakes are a bit different, bringing a subtle tang and a portion of veg to these pretty, savoury pancakes. Recipe from Tin and Thyme.
These Korean Mung Bean Pancakes look utterly delicious, and the recipe can very easily be adapted to make it gluten free, since it uses only a tablespoon of flour, which can be switched for rice flour, GF flour, or omitted. Recipe from Christina's Cucina.
Having just moved to Wales, these Leek Pancakes are just up my (new) street, and they look fantastic both with and without the spinach, kale and ricotta filling. Recipe from Searching for Spice.
If you've not yet tried hoppers, do have a go at these Oatmeal Sri Lankan Hoppers, perfect for breakfast or brunch. Recipe from Fuss Free Flavours.
The Best Sweet Pancake Recipes
Atayef are a popular Middle Eastern dessert. The light, fluffy pancakes are fried on one side and left bubbly on the other, and often served folded around a sweet filling such as soft white cheese with sugar and rose water. Recipe from Little Sunny Kitchen.
Who could resist these American Style Chocolate and Raspberry Pancakes, with fresh raspberry compote and a rich chocolate sauce? Recipe from Supper in the Suburbs.
For a tropical flavour combination, I'm drawn to these Coconut Banana Pancakes, with their lovely lacy texture. They are also both gluten and dairy free. Recipe from Recipes Made Easy.
These Fluffy Gingerbread Pancakes are Vegan, so great when you're cooking for a vegan diet, but so delicious that everyone will love them. Recipe from Veggie Desserts.
Another gorgeous green recipe in these Gluten Free Matcha Pancakes, served with a berry and honey sauce. Recipe from A Mummy Too.
If you've visited Holland, you will already be familiar with the delicious treat that is Poffertjes (Dutch Pancakes), small puffy pancakes most commonly enjoyed as street food, but easy to make at home too. Recipe from Lost in Food.
I love this recipe for Sticky Toffee Pudding Pancakes, a clever riff on the classic dessert – date-studded pancakes drenched in a  decadent toffee sauce. Recipe from Something Sweet Something Savoury.
With thanks to my fellow bloggers for sharing their delicious pancake recipes with me for this Pancake Day round up!