By now we've seen Adelaide to Budapest, Cancun to Istanbul, Jerusalem to Mysore, and Naples to Seville.
Now it's time to close the list with Part 5 – Shanghai to York.
Is your favourite city in our one hundred? If not, let us know what city you would have picked and why!
Shanghai, China
If it's in your region then I wager Shanghai could become your all time favourite city break destination too! It's my nomination for its multifacetedness!
It's a cosmopolitan mega city of 25 million (including 1 million expat residents from all over the globe!) known as "The New York of Asia". It's constantly growing and changing, restaurants, bars and clubs open and close by the thousands every year. Some things like the view from the Bund in the French Concession remain eternally stamped upon your mind once seen.
You can also visit Shanghai from a number of budget perspectives, from backpacking to luxury and every travel style in between! It's safe and interesting for singles, couples and families with kids of all ages. There are a number of ways to get a sense of the scope and sprawl of this city including by taxi over the raised freeways, but my favourite would be visiting the Shanghai Urban Planning Exhibition Center and seeing the scale model of Shanghai… even the model is sprawling and astonishing to see!
Erin Hardie blogs at Down Bubble. Find Erin on Instagram.
Shiraz, Iran
Shiraz, capital of the Iranian province of Fars, makes it for a fascinating city break with so much to see that will leave you longing for more. Cradle of the great Persian civilization, this is the best place to start exploring Iran's ancient history and the famous Achaemenid Empire of legendary Cyrus the Great and Darius the Great. Pasargadae and Persepolis are, in fact, a day trip from Shirazyou shouldn't miss!
Shiraz is also home to the beautiful Nasir al-Molk Mosque, also called Pink Mosque for its pink-hued rose decorations typical from the Qajar era and the stunning interplay of morning lights when the sun rays seep through the stained-glass windows.
One of my favorite things to do in Shiraz is to walk around the historical Vakil Bazaar and admire its architecture while doing some traditional shopping of saffron, pistachio, and textiles.
Shiraz is also the city of romance and love poems, so make sure you don't leave before joining the crowds of Iranians gathered around the tomb of Hafez. Medieval poet native from Shiraz, his verses are a true source of inspiration for Iranians' daily life.
Angela Corrias blogs at Chasing The Unexpected. Find Angela on Instagram.
Singapore
Singapore simply amazes me. A city-state-country that only takes about 40 minutes to drive from one end to the other, packed with so many places to marvel at. Though some may say that Singapore travel is expensive I'd say it gives you the most bang for your buck.
You get to be exposed to multiple cultures, languages, and a variety of ethnic delectable foods, giving you the exotic travel experience, while still being able to get around easily as an English speaker. The rich history can be experienced today at neighborhoods like the Arab Quarter and Chinatown and delicious meals can be enjoyed at low prices from Hawker Stalls.
Though Singapore is a metropolitan, modern city (yes, it is super clean), it certainly doesn't lack in the green factor. Offering attractions like the futuristic Supertree Grove made up of over 200 species of tropical flowers and plants and equipped with solar panels, two of the world's largest glass greenhouses containing plants species from all around the globe, and the tallest indoor waterfall.
Additionally, Singapore has it's own island just minutes away with beautiful beaches to relax at, making you forget that you're actually in one of the world's major financial and commercial hubs.
Taiss Nowrouzi blogs at Together Wherever. Find Taiss on Instagram.
St. Louis, Missouri, USA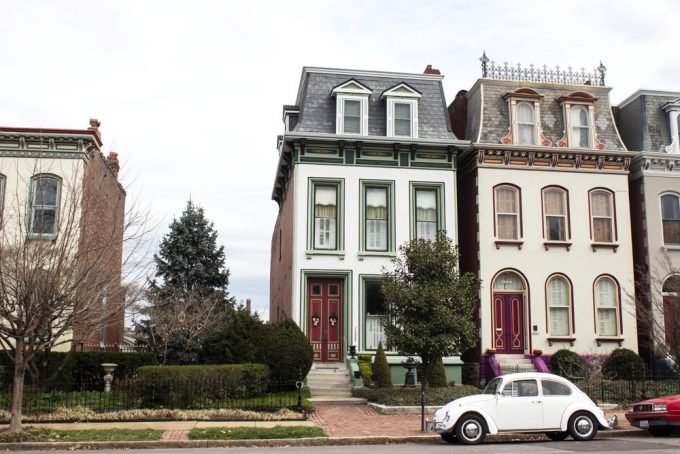 At first thought, St. Louis may not grab your attention as a city break destination. Other than Chicago, I don't feel like people are just antsy to get to the Midwest but I have to disagree completely. Something about the Midwest really makes me swoon – the architecture, the people and just the overall vibe is fantastic. St. Louis, specifically, is one of my favorite cities for a city break.
Being based in Nashville, I've been visiting St. Louis pretty regularly because it's so close and over time, I've fallen in love with the city. It's incredibly affordable to visit – almost everything is free!  A large majority of the museums are free, Budweiser gives complimentary tours and there is a ton of green space which is, of course, free!  Forest Park sits in the middle of the city and is actually larger than Central Park in NYC. There are also a bunch of quirky, off the beaten path spots like the turtle park, a large sculpture park and more.
Additionally, the food scene is incredible. As a vegan, I don't struggle to find delicious food every time I go. Animal lovers will find a couple ethical sanctuaries to visit as well including the Endangered Wolf Sanctuary and Gentle Barn Missouri.
Ashley Hubbard blogs at A Southern Gypsy. Find Ashley on Instagram.
St. Petersburg, Russia
St. Petersburg is a perfect destination for a city break not only because everyone can visit it without applying for a Russian visa (via a cruise from Finland or Estonia), but also because it's an absolutely gorgeous city.
St. Petersburg used to be the capital of Russian empire, and like every imperial capital, it has plenty of lavish palaces turned into museums, theatres, cathedrals and churches. I was born and raised in St. Petersburg, but since becoming an expat in the UK, I enjoy going back for small city breaks.
Even though there is so much to see in St. Petersburg, you can try to see the main landmarks within 3 days. However, if you want to discover the city properly, you will need around a week. If you're planning to visit St. Petersburg, try to go there either in winter (January, February) for an ultimate Russian winter experience (but don't worry, St. Petersburg still looks fabulous in winter), or in Spring / Summer (from May to July) or October is great too because the city will be full of trees with the leaves turned red and yellow!
Things you need to visit in St. Petersburg: the Hermitage Museum, Isaac's Cathedral, Peterhof (in summer only), Catherine Palace and the cruise in a small river boat around the city.
Liza Skripka blogs at Tripsget. Find Liza on Instagram.
Stockholm, Sweden
A city with a Nordic flair, a happy vibe, with a touch of sweetness and some spice. That is Stockholm, one of the most beautiful cities, with a lot of diversity.
There are endless opportunities in Stockholm, trying to get a glimpse of the royal family, enjoying the water along the harbour or at Tivoli (a mini amusement park) or diving into the Gamla Stan (the Old City). On a rainy day visit the Vasa Museum.
Besides all of that Stockholm has an amazing coffee culture, it's hard not to get a good cup.
But let me let you on in a little secret: Crew members who work on cruise ships sacrifice their sleep to go out and explore Stockholm. Its like a party every time and we are sad when we have to stay on board. It does not matter how many times you have done the Baltic Sea route, everyone gets excited every time.
I promise you will not be disappointed with Stockholm, and all the major highlights are in walking distance.
Inka Stellbrink blogs at inkastour. Find Inka on Instagram.
Sydney, Australia
Sydney is easily one of the best cities to visit on a weekend break – and particularly so if you are already in Australia as it's so darn expensive to leave our Island!
But apart from that, this cosmopolitan tourist mecca has something for everyone – be it your 1st visit or 100th! From the iconic sights of the Opera House and the Harbour Bridge, to the foodie hotspot that is the Rocks district and all the shopping to be had in the CBD – and that's before we get started on the hundreds of beaches that are less than an hour away for those wanting a bit more of a laid-back beachy vibe. There are also lots of things to do for families with the Taronga zoo, Luna Park and Aquarium practically within the CBD.
I think you could keep visiting Sydney over and over and always find something new to see, do and experience – which is what makes it the perfect destination for a weekend break!
Vicki Garside blogs at Make Time To See The World. Find Vicki on Instagram.
Tallinn, Estonia
Tallin, Estonia feels like a setting of a fairy-tale movie. Literally, people were even dressed up as if they belong in the medieval era while they try to entice you to try vanna tallin – a local drink. It really feels like a set from a movie.
I fell in love with the gothic buildings, the cobblestones, the walls and the cute little shops around old town. I loved the food and the nuts that they were selling in the old town.
In striking contrast to its 'old' feel, Tallinn is also a venue for modern digitization – there are a lot of tech start-ups and online businesses brewing in this city. Did you know that this was the birth place of Skype?  For a digital nomad like me, it would be a good base.
A plus is that it is close enough to other interesting cities too like Russia and Riga. Tallinn feels homey yet vibrant all at once, I really enjoyed my time there.
Karla Ramos blogs at Karla Around the World. Find Karla on Instagram.
Tbilisi, Georgia
The capital of this virtually unknown country is a confluence of cultures from the east and west. Located at the crossroads of Eurasia, Georgia brings a charm that is evident in its culture, food, architecture and landscape. With the backdrop of the Caucasian mountains, Tbilisi, it's capital is one of the most sought after travel destinations in the world now.
The city is almost 5000 years old with a concoction of the old and new. Walking down the narrow cobbled streets of the old town will bring you memories of a great glorious era where Georgia was the center of action in the old world. Now the city has transformed itself with new cafes, restaurants and futuristic architecture.
Taste the exquisite Georgian food in Tbilisi and sip on some wonderful Georgian wine which is famous for almost 8000 years. A trip to this city will leave you fascinated and craving for more making it a perfect city break.
Johann Kuruvilla blogs at Escaping Life. Find Johann on Instagram.
Tel Aviv, Israel
Tel Aviv is the perfect city break destination. Its location in the Middle East makes it such that it can be easily reached on a short flight from Europe. But there's more. The city is packed with interesting museums and lovely neighbourhoods, with incredible examples of the Bauhaus architecture.
It enjoys good weather year round as it is on the shores of the Mediterranean. There are a bunch of beautiful beaches to hang out and swim in the summer, and the waterfront is perfect for a sunset walk, or to exercise.
Tel Aviv is packed with life: it literally never sleeps. People are out and about at any time of day and night – walking their dog; taking the children for a walk; biking; skating; or simply enjoying coffee or a drink. Indeed, there's an incredible bar and restaurant scene.
What's great about Tel Aviv is that it is at only 45 minutes drive from Jerusalem, so it provides easy access to even more beautiful sights in Israel.
Claudia Tavani blogs at My Adventures Across The World. Find Claudia on Instagram.
Tokyo, Japan
Tokyo, Japan is my favorite city break destination. I love Tokyo for many reasons including the culture, the food, the people, and its efficiency.
Not only is Tokyo a large cosmopolitan city full of attractions but it is mix of traditional and modern. From the celebrated cherry blossoms in the spring to the delicious sushi to catching a sumo wrestling match or watching a kabuki performance, there is no shortage of unique and fun things to do. I recommend walking across Shibuya Crossing (the world's most famous intersection), people watching at Yoyogi Park and the surrounding Harajuku area and making an early morning visit to the Tsukiji Fish Market to watch the tuna auction and have fresh sushi for breakfast. Make sure to check out one of Tokyo's many cute and quirky cafes including a robot cafe, maid cafes and various animal cafes. No matter how many times you visit Tokyo, you will never run out of things to do.
Matilda blogs at The Travel Sisters. Find Matilda on Instagram.
Toronto, Canada
What can I say about the Queen City, Canada's largest, dynamic, multi-cultural, ever growing, opportunity-filled metropolis that has not been said before? I consider Toronto as a perfect city break destination and there is so much to see and do even in just a few hours or days.
What I particularly love are its many and quite unique neighbourhoods: from the Downtown area, particularly harbour-front and the Toronto islands, to Chinatown, to Little Italy & Little Portugal, to Roncesvalles & High Park, to North York, all the way east to Cabbage Town, the Danforth, Little India to Scarborough and beyond.
It's ok to visit the touristy spots that you will find in any travel guide but for a real experience of Toronto, truly get off the beaten path and explore any of the areas mentioned above. Arm yourself with a day pass (which offers unlimited travel on the bus, subway, streetcar), a good pair of shoes and go! Don't be afraid to ask locals for directions or to give you their recommendations on the best places to go grab a bite or stop for a drink. People are genuinely friendly and nice!
Toronto will let you see how Canada is rich with its diversity and how proud we are to be Canadian. You'll leave with great memories for sure 🙂
Karla blogs at Traveller Soul. Find Karla on Instagram.
Vancouver, Canada
Vancouver is one of the biggest Canadian cities. It's in the Canadian Rockies but the city itself offers many outdoor adventures and that is the reason it's our favourite.
It has a beautiful historical downtown, a short ferry ride away is Vancouver Island, a hidden gem of Canada and surrounding mountains have endless possibilities.
The most popular place is Stanley Park just outside of the city centre. It has several beaches and the Seawall, a 9km long pathway for biking, roller skating or running. A bigger park located in the forest is Lynn Canyon Park. With suspension bridge and many trails, it's our go to for biking. Of course including a dip in the creek, great refreshment for sore legs. Runners and hikers compete between each other on the hiking trail up the Grouse Mountain. Although only 3km long, it's very steep with an elevation gain about 850m. Once on top, there is ziplining, paragliding, a helicopter tour or a refuge grizzly bear.
Maya & Michal blog at Travel with the Smile. Find them on Instagram.
Venice, Italy
Venice is a great place for a short city break, for first time visitors and locals alike.
Being born and bred in Venice' surroundings, it's always a pleasure for me to be back even for a short break. What I like about Venice is that it's a great place to be regardless of season, weather and temperatures. It offers a variety of things to do and also it's a car free destination, which is something you don't get in any other Italian city.
If you love arts and music, like I do, don't miss out on visiting Palazzo Grassi and the Peggy Guggenheim Museum, or visit Venice during "La Biennale" (May-November) one of the largest art exhibitions in the world. Also there are many music concerts in churches and old palaces. Ask at the visitors' centre for the concerts program.
One of the best way of visiting I highly recommend is walking and getting lost through the maze of calle (lanes) and bridges. My favourite walk starts from the railway station and head to Frari Church, one of the oldest and most beautiful churches in town. Follow your path through Campo San Pantalon and Campo Santa Margherita to savour the peacefulness of the venetian squares (campo) to get to the Accademia bridge and enjoy the amazing view of the Canal Grande.
Michela Fantinel blogs at Rocky Travel. Find Michela on Instagram.
Victoria, Canada
Victoria is an absolutely idyllic city that spreads joy throughout the year as the weather doesn't get nearly as cold as the rest of Canada. (Compare -40C to 0C in the worst of the winter!)
It is absolutely stunning – from the vines that crawl up the beautiful Empress hotel to the lights on the Parliament building which sparkle over the water, this place is amazing. Plus, you can walk most places with ease, exploring Beacon Hill Park – a giant expanse that even includes world's tallest totem pole – to Fisherman's Wharf, where you can find floating houses. There are even seals that live there, and tourists often purchase fish to give to them (okay, I know, they become dependent on this, but hey, the seals there are already dependent and very friendly, and get fed plenty!) Overall it's just a great little city to visit!
Danielle Ditzian blogs at Like Riding a Bicycle. Find Danielle on Instagram.
Washington, DC, USA
With its colourful row houses, walkable neighbourhoods, and abundance of fascinating activities, Washington DC is a unique place to visit on a vacation of any length. You've probably seen iconic photographs of this place, featuring the many monuments, museums, and historic buildings that call this city home. However, the real charm of the city lies in its neighbourhoods and hidden treasures. If you have enough time to wander around DC's various areas, you'll can find some really interesting gems.
Deep in the maze of buildings lies a fascinating food and bar scene. Not only are there upscale eats for the self-proclaimed foodie, but there's also an abundance of international food, from Salvadorian to Senegalese. Dotted throughout the city are a handful of speakeasies that bring visitors back to the Prohibition era through delicious cocktails and underground vibes.
Aside from the cuisine, DC also has a lively art scene. With galleries tucked away into formerly abandoned churches and amazing concerts of every variety, there's always a new showing or concert to attend.
The best part? The city is extremely walkable and bikeable, making most of this city's attractions accessible within just a few minutes. There are so many compelling things to do in Washington DC if you're willing to leave the popular tourist areas and meander through its vibrant streets.
Kay Rodriguez blogs at Jetfarer. Find Kay on Instagram.
Wellington, New Zealand
Everyone knows New Zealand is a stunning country but did you also know that Wellington has been named the 'coolest little capital'? When I moved to New Zealand 15 years ago after travelling to 100 countries, I had no idea where I was going to live. Then I arrived in Wellington and I just got the feeling that I was finally home.
Wellington has a lot of cool spots that many people miss. It hosts the Te Papa Museum which is a national treasure, has a cool harbour for chilling and walking around and seeing the street art, and it has some of the best restaurants in the country. You can also take the cable car up to the botanic gardens for views overlooking the harbour and walk through the gardens on the way down. There is also a green belt going through the city which means there is lots of nature reserves to go for hikes or parks you can walk through. Wellington also hosts lots of the arts events and a special one to note is the World of Wearable Arts where you can enter another world where art and fashion collide which is not to be missed.
Yes, it is called Windy Wellington for a reason but they also say you can't beat Wellington on a good day.
Nicole LaBarge blogs at Travelgal Nicole. Find Nicole on Instagram.
Wroclaw, Poland
My favourite city break destination is Wrocław. This city, in the western part of Poland, makes a great add-on to a Berlin, Dresden, Krakow or Prague itinerary. The city was the capital of culture in 2016 and the passion of the locals to showcase their city is obvious.
One of the highlights of Wrocław is the hundreds of dwarf statues. You cannot help but smile when you spot these cheeky bronze figures, caught in mischievous situations, throughout the city. Inspired by a political movement during communist times the first dwarves started appearing in 2005 and the population continues to grow. Local students even like to dress them for the winter. Download the app before you go to maximise your dwarf spotting.
Wrocław is an attractive city. Visit the colourful market square, walk along the river and head to peaceful Cathedral Island at dusk where a lamplighter still lights gar lanterns to illuminate the streets.
There is plenty for food lovers too, some of Poland's oldest restaurants still dish up hearty, traditional food while newer contemporary restaurants serve stylish, fusion cuisine to rival restaurants in Paris and London, but for a fraction of the price. Polish vodka is served in many different flavours some, like the popular quince flavour, are sweet and easy to drink. You will also find a thriving craft beer scene with a number of microbreweries within the city limits.
Kaylie Lewell blogs at Happiness Travels Here. Find Kaylie on Instagram.
Yangon, Myanmar
The first time I stepped in Yangon, I felt it was so similar to Mumbai. The colonial buildings, the bustling streets, the cosmopolitan flavour, the traffic! But as I stayed on, the city showed it's distinct flavour through it's myriad colours. It had the magnificent Shwedagon Pagoda, whose golden colour dazzled and blended with the city skies. It had the majestic statue of the Buddha lying down which was so enormous that it could not fit in my frame.
It had the vibrant Scott's market with everything and anything under the sun. One of the reasons I love Yangon is this market. Like an endless maze, it has locals and tourists rushing to it to buy lacquer, glimmering gems, Burmese umbrellas and the likes. While most markets are touristy and travellers are likely to get conned. Scott's is one place where locals buy, so if you need to shop like a local, head straight to Scott's!
More than the colonial buildings, the authentic Burmese palace restaurants and even the Shewdagon Pagoda, if there is one reason why Yangon is so close to my heart, it is because of a sunset I experienced by the Kandawgyi Lake. Not everyday you witness a sunset that leaves you speechless. Not everyday you see it in a city.
Divyakshi Gupta blogs at Quirky Wanderer. Find Divyakshi on Instagram.
York, England
York is situated in North East England and dates back to Roman times when it was called Ebacorum. York has also been known as the Anglo-Saxon city of Eoforwic and Jorvik when it was a Viking settlement. It's said that the history of York is the history of England. As you wander around the streets you'll find Roman ruins, Tudor homes and Victorian buildings among more modern architecture. There's nowhere quite like it – York has such a rich and well preserved history.
Top things to do include walking the medieval battlement-encrusted city walls; visiting England's largest gothic building, the YorkMinster; discovering Vikings at Jorvik Viking Centre and being scared out of your wits meeting Dick Turpin (and other gruesome characters) at York Dungeon.
York isn't just about history though. There's a great food scene (and of course, the all important afternoon tea experience at Betty's) and it has a lively nightlife thanks to being home to one of the UK's most prestigious universities.
Whether you're a couple looking for a romantic destination, a history buff or a family you'll definitely find plenty of things to do in this fantastic city.
Emily Cole blogs at Kids and Compass. Find Emily on Instagram.
You may also enjoy this ultimate Europe bucket list.
Save for later on Pinterest:

Thank you again much to my fellow travel bloggers for all their contributions. I hope you enjoyed these last 20 fantastic cities and indeed the whole 100! Do revisit the previous chapters Part 1: Adelaide to Budapest, Part 2: Cancun to Istanbul, Part 3: Jerusalem to Mysore, and Part 4: Naples to Seville.